*This is a review post. We were asked to review Camp Beaumont and share for this blog post*
As a working parent, good childcare is vital, particularly during school holidays. I reduce my working hours slightly when we hit school breaks but I still do need to work. I also am not ashamed to admit that I do like options to keep my kids entertained, safe and occupied during the holidays to give me some time too.
Camp Beaumont have facilities local to us and provide well-organised childcare during school holidays and half-term breaks. We are big fans of their services and provision for children.

Camp Beaumont Day Camps have been caring for children for over three decades and been part and parcel of the school holiday calendar for 38 years and continue to be a great service to parents to provide childcare over the school holidays. Our camps for 3-16 year olds provide busy parents with the most flexible, high quality and affordable childcare options during the school holidays. Parents can book from as little as 1 day to 3 days or multiple weeks and every day and every week a new challenge arrives. We make sure children are been cared for in a safe and happy environment and trying new activities, making new friends.
Having worked in childcare myself, and being an experienced parent with a fair bit of knowledge around family life (I am trying to say I have been around the parenting block and family life for a long time without admitting that I am old) I am picky about childcare for my kids.
It must be safe, well organised, flexible, with staff and facilities that keep the kids busy and stimulated.
Yup, I know. I am a hard taskmaster (or is it mistress?) but when you are sending your kids to be looked after by other people you want to make sure they are being cared for well.
One of the other things I like about Camp Beaumont is they do physical activities and not just crafts and the children get a chance to discover new games and sports they may not play at school. The boy realized that he really enjoys basketball during his most recent session, having never played before and the teen relished practicing more archery, a sport that isn't part of her usual activities.
They do some wraparound care too, so you can leave them for an extended hour at pick up and you can drop them off from 830am which works well if you need to make the most of a working day in the holidays.
The staff and team are friendly and helpful, reassuring and on the ball about food allergies and were not at all phased by the boy's needs around sensory issues (usually not an issue but I do always try to make sure people looking after him know and understand where he might struggle and need help) and another good thing is they don't allow mobile phones or screen time. The teen was not impressed by this initially because she believes she will somehow not survive if she can't have her mobile phone, but she coped. I am all for screen-free time and knew that if I was really needed the staff at the camp would be in contact with me. (I know that some parents prefer their kids to have phones, I personally think kids don't need them if they are with properly attentive and experienced childcare providers) I also like how organised they are around safeguarding and making sure parents feel confident leaving their children in their care.
But, most importantly of all, do the kids like Camp Beaumont? Whilst I need to feel good about the care I use for my kids, the biggest tell is whether the kids are happy, settled and relaxed and enjoy themselves. If that isn't happening it's not going to work.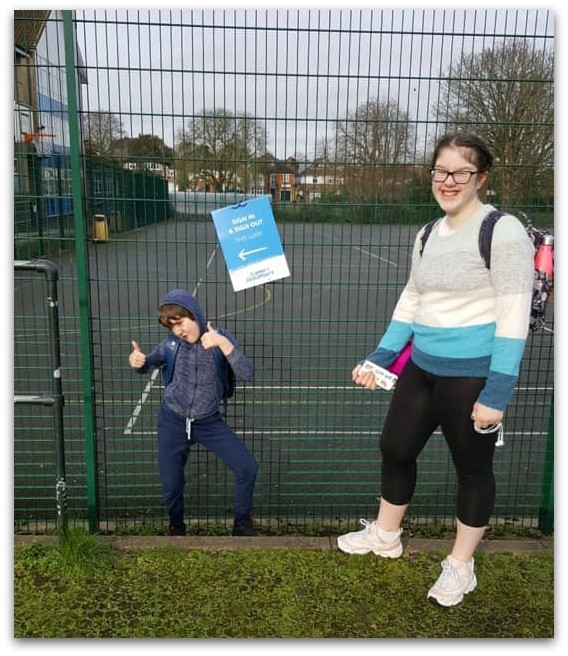 Thankfully my kids love it. They were tired and happy when we collected them. They had had a busy day, doing crafts, learning new sports and games and enjoying some familiar activities. They are grouped by age, so are with children in their peer group, and enjoyed making some new friends and socializing too.
We highly recommend them, and we will use them again. They operate in many places around London and you can book sessions easily.
They have fantastic locations across London and beyond, PLUS brand new locations for 2020! Open for February half term, the Easter holidays, May Half Term, Summer Holidays and October half term!