*This is a review post. We were kindly gifted some products*
Getting kids outside to play is one of my parenting musts and even when the weather isn't great we try to get outside every day. Outside time, fresh air, running around, playing games, and having fun are a childhood essential and it's good for everyone including grown-ups. In the summer when the weather is good we try to be outside as much as we can.
You don't need a lot to have fun outside, and sometimes my children happiest when left to play, use their imaginations and explore, but there are also times when you can provide some tools to make things more exciting.
Water fights and games that involve water for us, are the ultimate family fun time. You can't really go wrong on a hot day, in the garden, with a water fight and all you need is water, some good water balloons and the acceptance that you are probably going to get very wet. Anyone can enjoy a water fight, from little ones to bigger kids, and adults who revert to being big kids too.
We might all love each other in our family unit, but when the going gets competative and getting other family members soaking wet is on the cards, all bets are off.
You can really mix it up and there are lots of ways to play and games you can all enjoy as a family. BunchOBalloons have some great ideas that you can play try, and no one will be bored, or dry…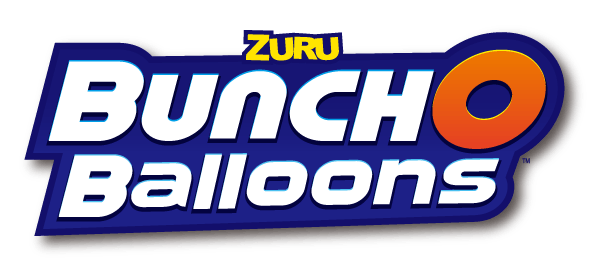 Unleash the thrill of summer with ZURU Bunch O Balloons! Fill and Tie 100 water balloons in less than 60 seconds with these sensational self-tying water balloons! With innovative O-Ring technology and Rapid Fill capabilities, say goodbye to the stress and mess of filling individual water balloons and say hello to never ending splash out loud fun! Simply connect to a tap or a hose, fill and make hundreds of water balloons with no hand-tying. Take them to a pool party, to your backyard, to a barbecue, the beach or anywhere else to unleash summer no matter where you are! Summer's too short, make sure you spend it having splashed refreshing fun!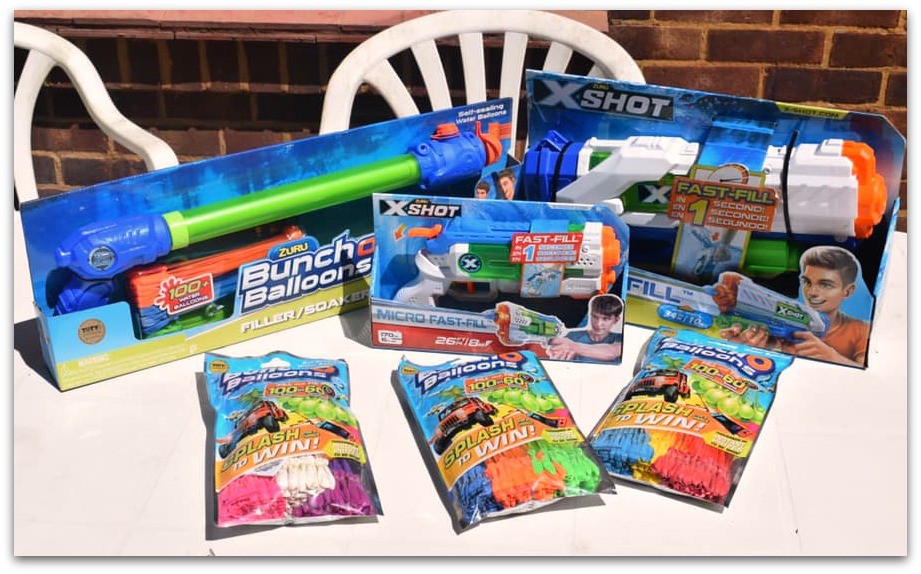 The balloons are easy to fill and use, with their very clever tool that means you can as my kids describe it "dunk and fill" a whole lot of balloons in one go, which is very clever.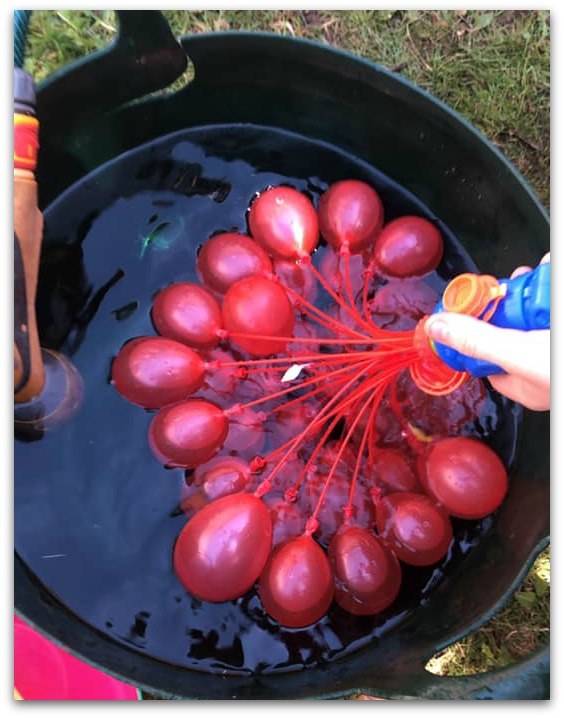 That's A LOT of water balloons… Handy that you can fill up a whole bunch in one go, for maximum splash fun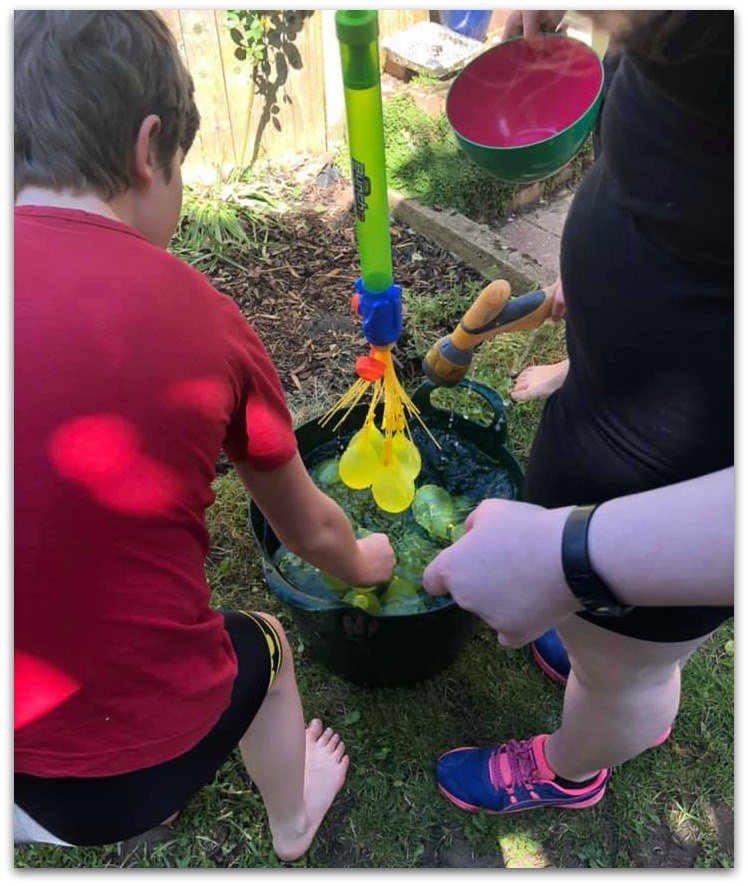 Getting ready. All bets are off once we are armed and good to go…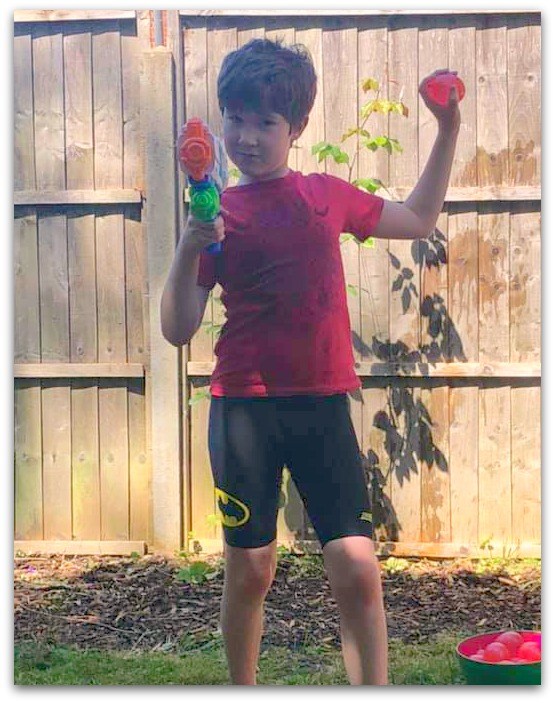 I should be worried, shouldn't I, he's pointing straight at me…
This is a great way to really play together as family or friends, and it's safe, and it's great for parties, hot summer days, burning off energy, team building, and playing together. As you can see, the adults have just as much fun as the kids, and yes, I did, in the end get very very wet, despite supposedly being the cameraman, no rules apply.
And the beauty of these water balloons is that they are recyclable. One of my bugbears about balloons is that they are bad for the environment. But these can be collected up and recycled. Which makes me feel very happy to let my family loose with them.
The water balloons are 100% recyclable and we have a brilliant Terracycle partnership in place – one of the world's recycling leaders for hard-to-recycle waste – to recycle them after use. You can find out more over on their website!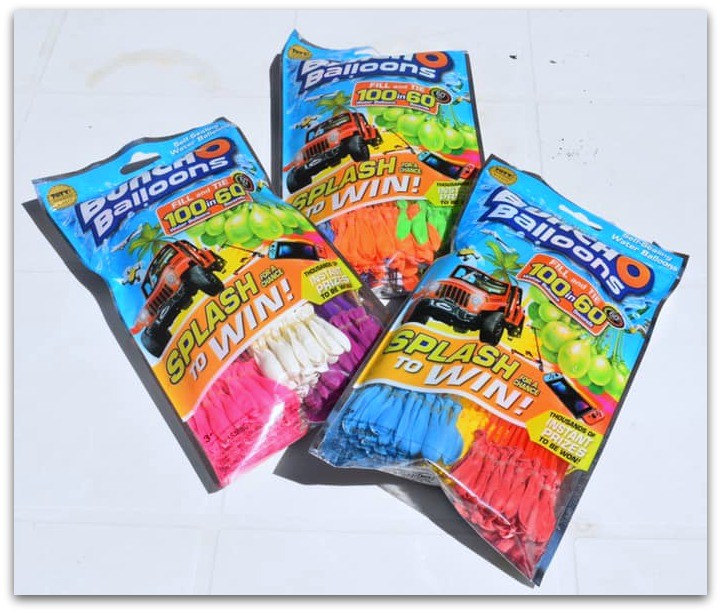 We have a rule, that after the games are done, we have to make sure all pieces of the balloons are picked up and safely disposed of. We make this a fun end to the game, so the kids know it's part of the deal.
This kit would make a great gift for a family for the summer, for taking on holiday, or for just finding something to make getting the kids outside a lot easier. The packs are great value for money and make for great water play in a paddling pool or with a slip and slide.
So who wants to come join us for our next water fight?