*This is a review post. We were kindly sent some Stabilo pencils to try*
My kids are both big fans of colouring, drawing, painting, and creating and when we find a reliable brand we like we tend to stick to it. These Stabilo Woody 3 in 1 pencils are something we have been trying our hand with and they are a great addition to our colouring pencil stash.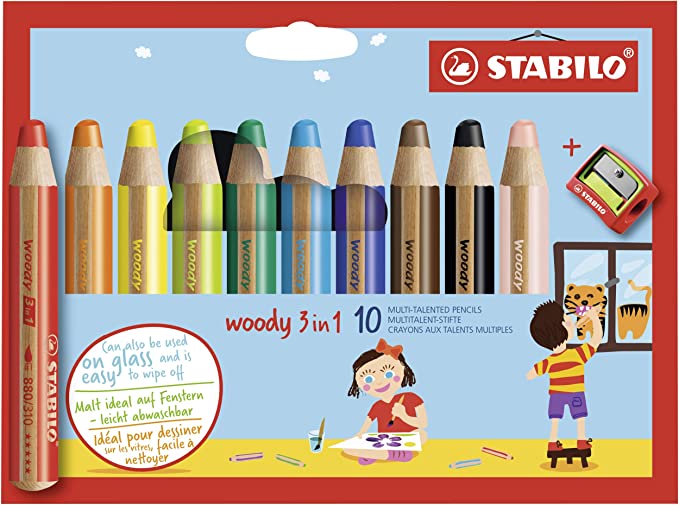 The STABILO woody 3 in 1 is perfect for kids to draw and paint and ideal for parents too – it washes off windows and is suitable for many surfaces besides just paper or cardboard. STABILO woody 3 in 1 is a range of 18 colouring pencils that also function as wax crayons and watercolors, making them ideal for aquarelle work. They offer vibrant colour intensity and opacity and even work on dark paper. STABILO woody 3 in1 pencils are long lasting, as the large 10mm lead contains as much colour as eight standard colouring pencils. The STABILO woody is so versatile it can even complement the more mature artist's toolkit.
The unique multi-talent: A colouring pencil, watercolor and wax crayon all in one.
High opacity and colour intensity, even on dark paper and glass – here it is easy to wipe off.
XXL lead – applies as much colour as 8 standard colored pencils.
Perfect for large areas and suited for nearly all painting techniques
Its thick shape is ideal for children's hands: allowing a good grip.
Break-proof lead, diameter 10 mm.
Thick, soft strokes
Available in 18 rich colours.
These pencils are brilliant and not just for kids, because their design and usage capabilities make them great for adults who love to draw and colour too, especially with it's water colour use.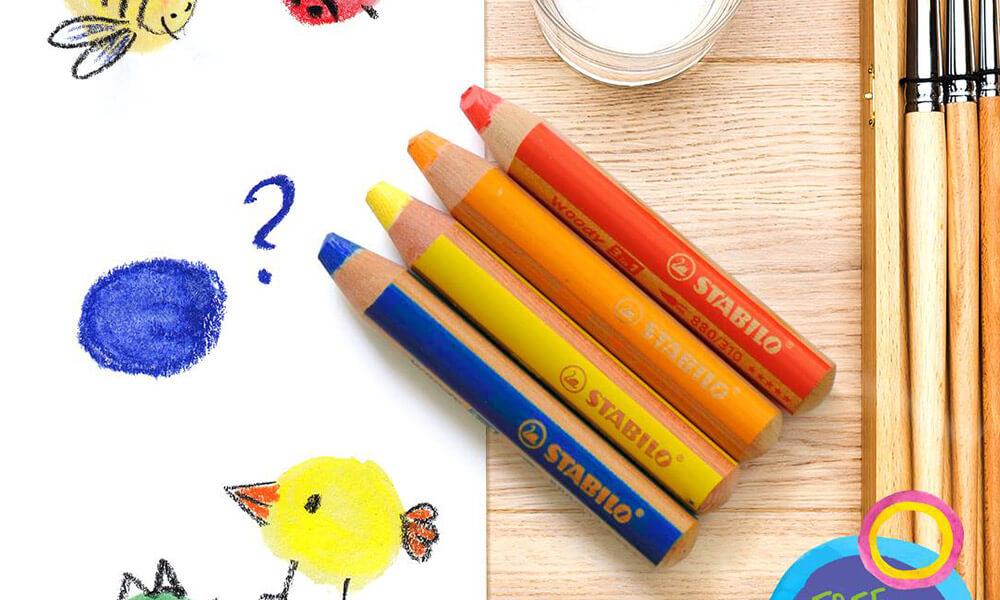 But mainly these are brilliant for kids and help them to get even more creative. We love the fact that they can be used on glass, or shiny surfaces (my window cleaner was NOT excited about this until he realised the marks could be washed off very easily and don't stain) and that gives them an extra dimension of creativity use.
They are designed to be held comfortable and the colours are bright and fresh. We always find that Stabilo makes great items for colouring, creating and letting imaginations run free with art and creativity and these are a great tool. They work for schoolwork, art, are small enough to take when traveling and because the colour washes out, they are approved by mum too, from a mess point of view. That's a colourful win all round.