For a significant birthday next year and our 20th wedding anniversary, I have a plan to take us to Las Vegas to celebrate. It's a place I think everyone should visit at least once to experience and I hope this helpful collaborative post will give you some ideas of fun family places to visit.
Las Vegas is notorious. You've heard the saying, "whatever happens in Vegas stays in Vegas." But Vegas has more than meets the eye. Yes, aside from its nightlife, it has some sensational family attractions that everyone will enjoy!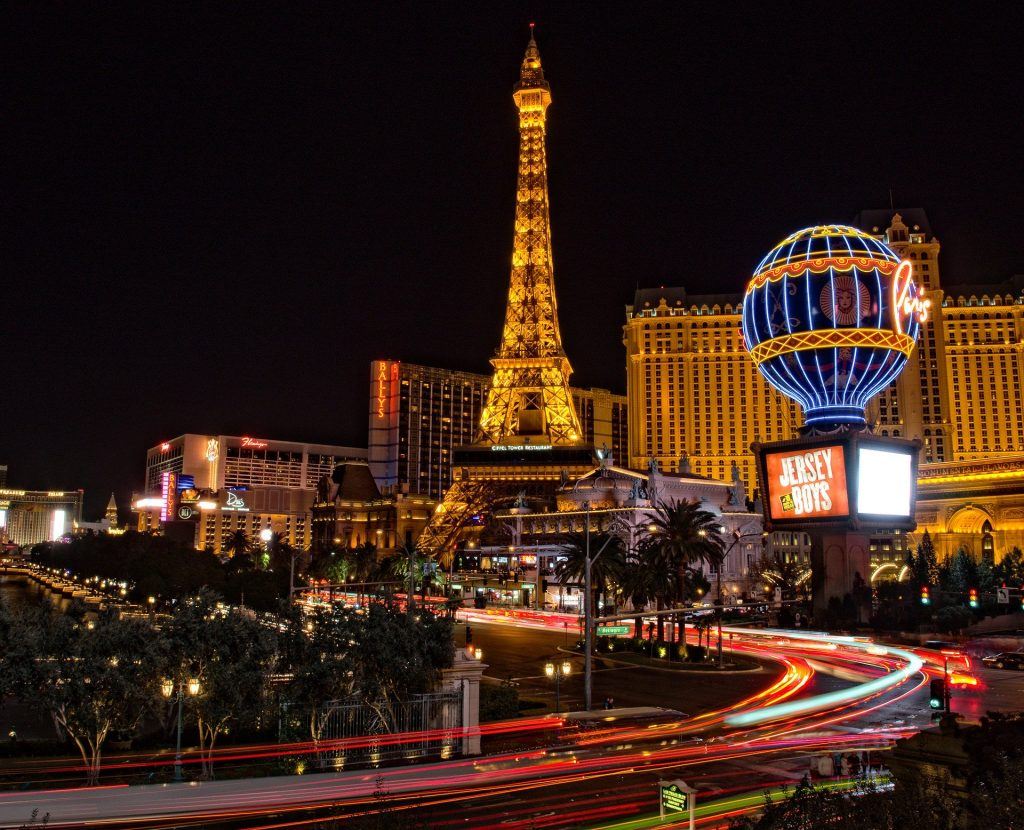 Las Vegas Eiffel Tower
This is one of most people's favorite attractions. You can actually go up into the Eiffel Tower (for about 20$ depending on where you get tickets). This is one of the best family-friendly night-time attractions as you can see over the entire Vegas strip and walk around the top. Right across the street, you can see the Bellagio Fountains going off every 10 minutes to different music.
It is truly a beautiful and breathtaking sight to see. And it doesn't stop there. Along with being able to go into the Eiffel Tower, the Hotel where the Eiffel Tower resides has built its own miniature replica of Parisian town inside. Walk around and stroll through the streets, or get a bite to eat in the many restaurants.
Sky Wheel
This is yet another attraction with a great view. Sky Wheels can be found in many places, but the Vegas Sky Wheel provides such an excellent view of the Vegas Strip at night that you don't want to miss. See all the Las Vegas houses for sale.
Stratosphere Hotel and Casino
Although it may only seem like another bar and casino, the Stratosphere is a huge hotel, with a roller coaster and other rides on top! This may be an activity for older children as many of the rides on top of this hotel go off the edge! It is an experience you wouldn't forget.
There are three main ride attractions to choose from: the first being the Insanity. This ride is not a roller coaster, but it is almost like a spinning claw that you sit on, and it spins the riders off the side of the building. The next ride is called the big shot. On this ride, you go up even further than the initial lookout view from the observatory deck. You go higher and then quickly drop down going about 160 ft. The last real "ride" on top of this hotel is the Xscream. Sounds fun, right?
Well, this ride is like a big teeter-totter. You get on when it is "down," and as the rides start moving, the rider begins moving not only up, but completely over the end of the building, just like the Insanity. Aside from the major thrill of it all, the top observatory deck has another beautiful view of the Vegas strip. The hotel itself is full of many more things to see and adventure, and this particular has some of the best pizza in Las Vegas.
We can't wait to experience these and some other fun places in a city that really is unique.