*This is a review post. We were sent some supplements to try*
I am generally picky when it comes to vitamins for my family but Equazen is a brand I recognize and know and it's something I feel confident using to help my family make sure they are getting all the essential nutrients they need that we sometimes can't quite manage to get from our daily diet, even if we do try to eat as well as possible.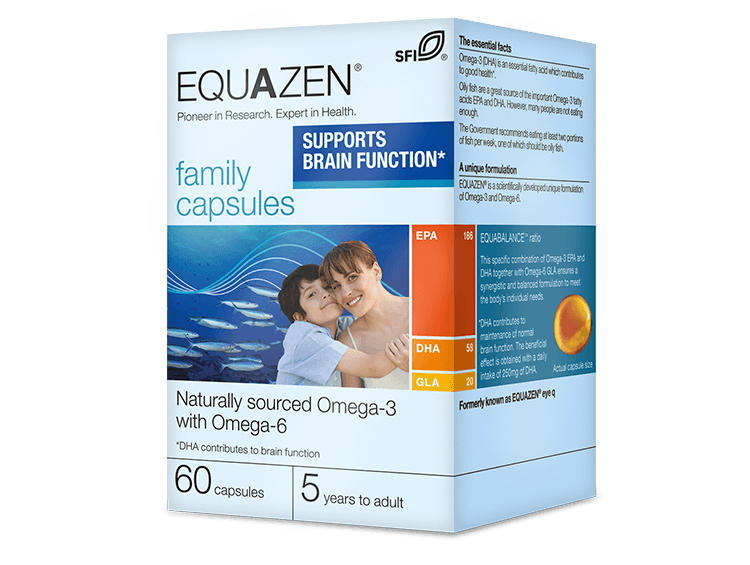 Equazen say:
The benefits to our overall health from eating 140g oily fish each week are well known. However, eating the essential fatty acids found in oily fish is not always easy. The likes of DHA Omega-3 found in oily fish, not only acts as the building blocks of our body's cells but also helps to support the normal functioning of the brain.*'
Fatty acids are 'essential' because they cannot be synthesized in the body and therefore, must be obtained in the diet. Equazen can help bridge this nutritional gap. Equazen is used as a supplement of the diet, not to replace a varied balanced diet and healthy lifestyle.
One of the simplest ways for you and your loved ones to supplement the amount of omega-3 and omega-6 fatty acids that you receive from your diet is to take our standard EQUAZEN capsules. These tasteless, odor-free capsules are available in family-friendly pot sizes – 60s, 180s, and 360s. Or you could try our Equazen Triple Strength one-a-day capsules that contain 279mg of EPA, 87mg of DHA and 30mg of GLA.
EQUAZEN provides you and your family with:
A unique formulation of high-grade omega-3 and omega-6 oils that have been produced following years of intensive scientific research Naturally-sourced and purified ingredients formulated to a unique EQUABALANCE ratio.
Ethically fished and processed in accordance with stringent regulations
Different products developed for different life stages, including pregnancy
I do feed my family oily fish and try to make sure we incorporate healthy fatty acids into the food we eat, but with food allergies and sometimes kids being pickier about what they eat, it isn't always easy or perfect. So making sure we are topping up or catching up with what they need is important, especially as they are growing and their bodies are changing. Their family capsule range is ideal because it's one we can all take, and it's very convenient. They also have a liquid supplement for under 5's too, if you have littler children.
The capsules are easy to swallow and don't leave you with a yucky aftertaste (I still remember being fed spoon fulls of fish oil growing up and the nasty fishy tasting burps that would be an after effect) and they are gentle on tummies.
We simply add them to our daily routine, and it's one less thing for me to worry about when life is a crazy juggle. I know that my kids and family are getting some of the essentials to help with brain function and health. I am all for anything that helps us to be healthier and manage life better in a fuss-free way. Equazen does that for us.