*We were kindly sent a Big Ben puzzle to review from Ravensburger*
Big Ben is an iconic London landmark, and famous worldwide. We have visited but never actually been inside or climbed the famous clock tower. The tower itself is not actually called Big Ben, did you know that? Something we learned recently too.
Ravensburger is also world-famous for their puzzles and they have something to suit everyone's taste and skill levels from artistic to creative. Puzzles are so good for hand-eye skills, thinking skills, and getting the brain to work and are a great family activity too.
Whilst we can't climb Big Ben, we can have a little fun at home with this rather brilliant Big Ben 3D puzzle from Ravensburger that is not only great to complete and fun to do, but looks so good when it's finished because it has a light effect and you can leave it up as something to admire and enjoy.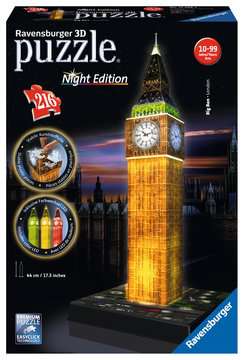 It's moderate to hard for younger children but with a little bit of help from a grown up you can create your own London icon to show off in your own home. The added light up feature makes it a lot of fun too.
My small son had a lot of fun putting his puzzle together and even created a video to show you how it is done. He makes it look very easy but it did take him a while to complete. It's sturdy and solid once made and the pieces are strong and durable.
This puzzle or any of their other 3D puzzles are a great gift idea and we are already trying to decide which one we'd like to do next…