*This is a review post we were kindly sent some Patch plasters to try*
No family first aid kit is complete without some plasters of different shapes and sizes to cover a variety of needs and we always have a box to hand. As a mum I carry a spare plaster in my handbag because you never know when you might need it and we have a travel first aid kit too.
I am generally quite picky about my plasters and what we use. They need to work well, cover wounds, and stay put, be reasonably water and life-proof whilst worn and comfortable too. They also need to be hypoallergenic as my children have sensitive skin and some plasters when worn cause them irritation and rashes.
Now we are trying to be a greener and more eco aware, we also want the medical products we use, where possible to be more environmentally friendly and that includes the plasters we use.
So not too many demands then?
Patch Strips are a great solution to our needs because they cover all of that list of requirements.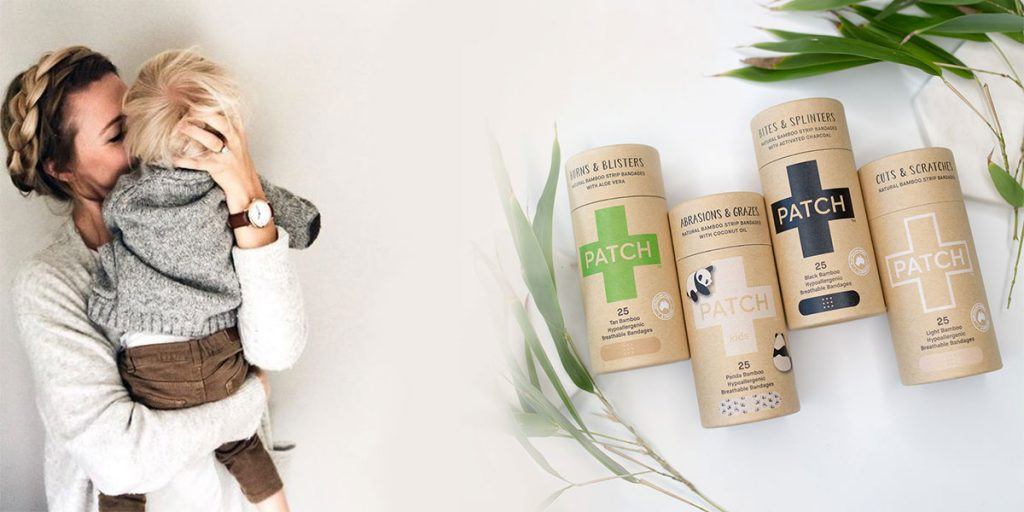 PATCH was born when James Dutton (the founder of Nutricare) noticed that while trying to protect his son's adventure wounds his skin was in fact reacting badly to a common wound covering and making the wound worse.
This puzzled James and he set off on his mission to find out why. He was shocked to discover that there is an array of chemicals that lurk in the common plasters. He became motivated to find better alternatives when he found that Charlie wasn't alone with his reactions. His research found that a staggering number of the of the world's population can't wear common wound care coverings, which was predicted to be on rise.
The other side of James' motivations were spurred on by his other son, Xavier, who hates putting creams on his skin. As parents you can get pretty creative with ways to put an anti-septic/anti-bacterial cream on the plaster, but no matter what was tried, Xavier would always know and often tantrums would follow.
Ultimately the wish for a wound care product that wouldn't cause nasty skin reactions and serve as a way to help heal the wounds was the real reason for PATCH.
PATCH is an incredible natural alternative that won't confine his sons to the couch when there is still exploring to be done or footy to be played!
We believe that reducing our environmental footprint is the pathway forwards and we strive to make ours as light as possible. This is why we've chosen to work with bamboo on this unique product line.
Here's why we're excited about bamboo, It's the latest 'it' girl on the el natural scene: Bamboo is a rapidly renewable resource that grows many times faster than trees, uses much less water, produces up to 35 more oxygen and doesn't need pesticides or herbicides! 
I always like to put claims to the test though and seeing is believing so trying out Patch plasters helped me to see that they are something we will be adding to our first aid kit.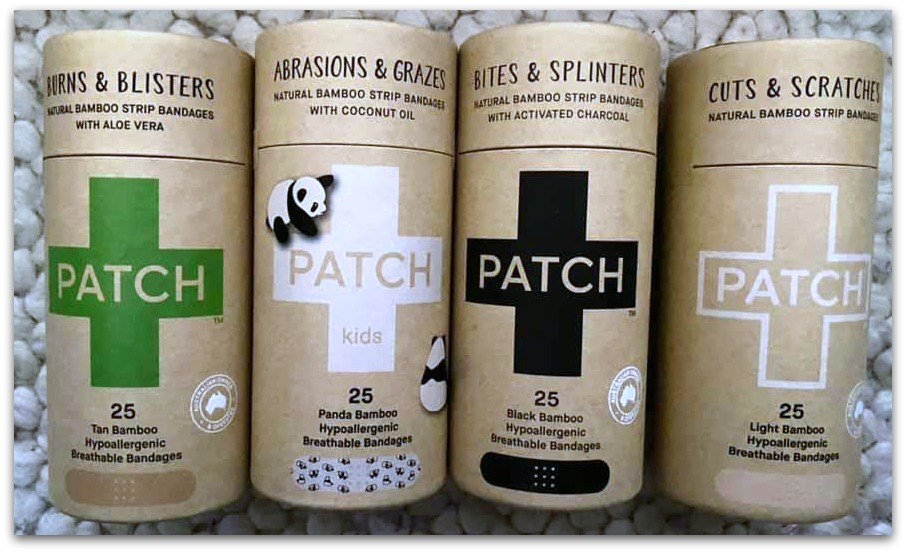 They come in four colours or shades, a sort of pale pink nude, perfect for those of us with pale skin (I hate wearing bright orange or brown plasters) and a darker tan shade which is great for darker skins, a black, which works well and also a super cute panda pattern that the kids and I squabbled over the rights too (apparently I am too old to like anything but boring plasters)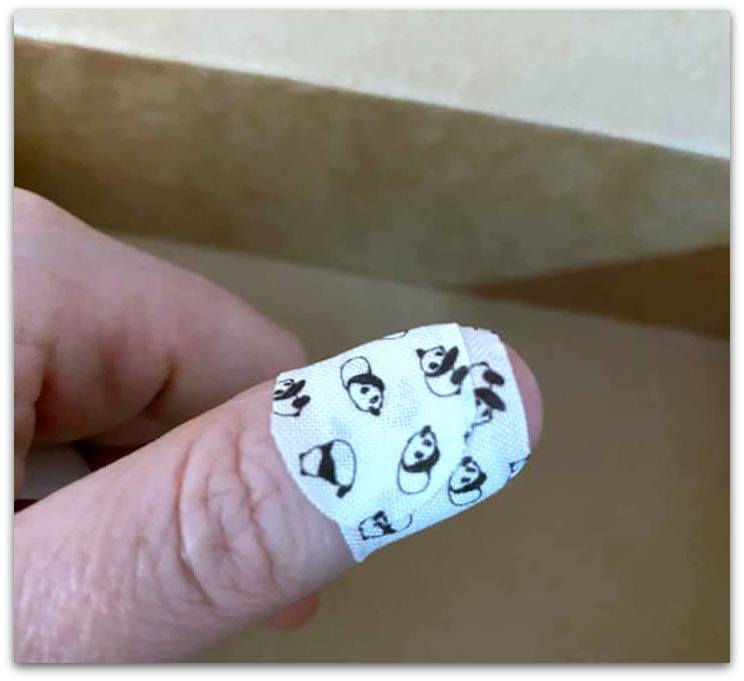 Don't tell my kids that I pinched one of their Patch Panda pattern plasters. Aren't they cute?
Becuase they are made of bamboo, they are soft like a fabric plaster and easy to wear, with give and stretch which is necessary in any plaster, and they are kind to skin too. Their packaing is biodegradable and recyclable and they last through the wear and tear of daily family life.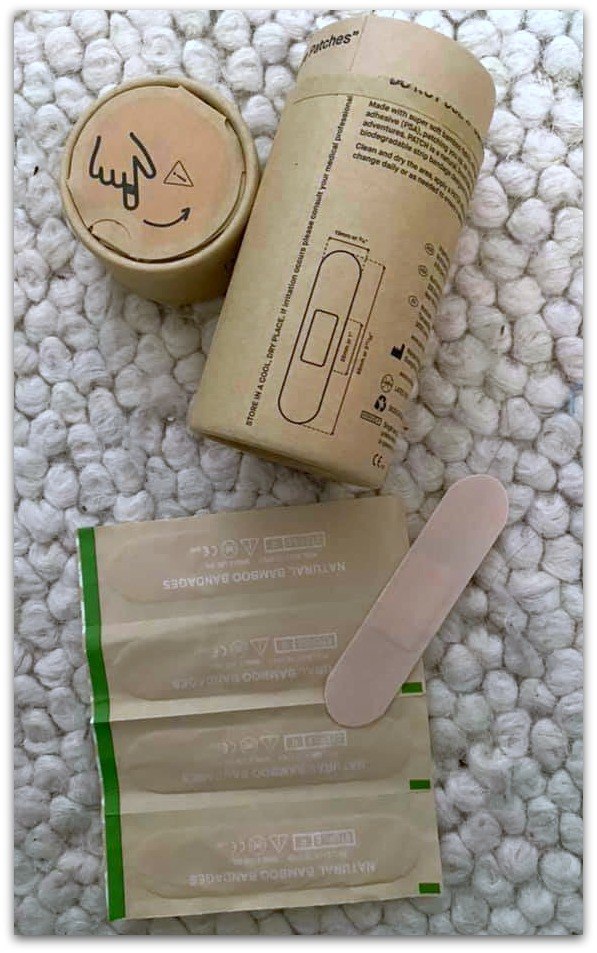 Also, most importantly, they don't bring out mysterious rashes, bumpy patches, or sore areas on sensitive skin, and my teen and small son can wear them comfortably. This is brilliant as it means we can add them to our safe list of products whilst knowing we are using something that is much kinder to the planet than traditional plasters that are not as eco friendly. We have been very impressed and they now replace all plasters in our first aid kit, my handbag, and in our first aid cupboard at home too.
So if like us you want hard-working, long-lasting, hypoallergenic but also eco-friendly plasters, then we would suggest you give Patch a try.