*This is a review post, with Spice Pots who kindly sent us some of their products to try*
Curry is one of our favourite meal "types" in our home. The children love a milder but tastier curry, I love any kind that resonates taste and spice and the husband loves something with a little heat and punch.
Being able to make a curry that's quick to make, but authentic, is something I really appreciate and Spice Pots have lots of great kits that make pulling together a fuss-free curry easily.
We recently tried their Vegan Spice pot range and I made some fantastic curries as family meals.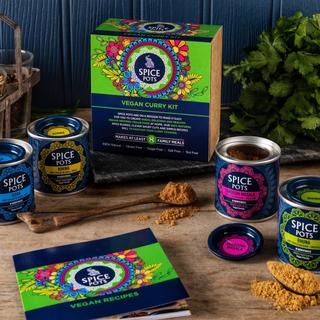 These amazing little kits, with jars full of divine smelling spices make it very easy. There is no fussing about measuring spices and working out what works taste wise. The pots are "compiled" for you and all you need to do is sort what you want in your curry, in term of protein and veggies and let loose.
My kids love Korma curry, so I like to make a big batch of vegetable korma curry that we can enjoy as a family meal, then have leftovers too. This is not a recipe from anywhere else, mostly what I put together.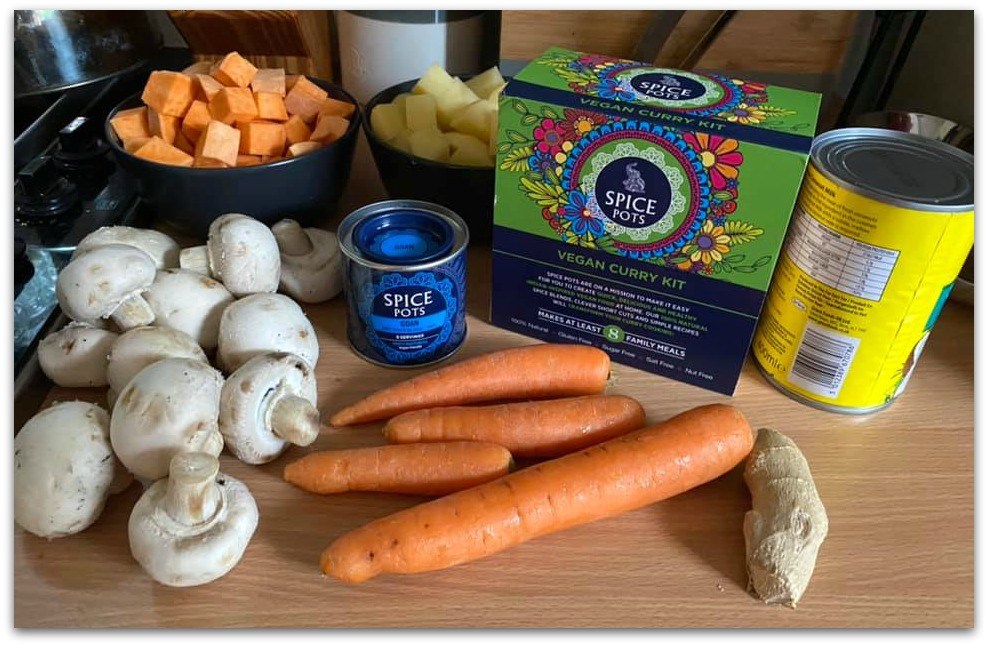 You need 3 large waxy potatoes. 3 large sweet potatoes, 3 cloves of garlic, one inch of ginger, one large onion, a tin of coconut milk, 800ml of vegetable stock, 500g of mushrooms, 500g of green beans, and two large carrots and 1 tablespoon of mild olive or sunflower oil.
The best part of making a curry, apart from serving it to eat, is when you chop the onion, garlic, and ginger in the oil and then you add your curry spices and stir them in and let them start to cook. The smell is amazing and fills the whole house and if you weren't hungry, you soon will be.
Peel and chop the garlic, ginger and onion and gently sweat them in your oil in a heavy-based pan, for a few minutes then you add your spices. The Spice Pot kits recommend how much to use. Stir it in and let it sit cooking gently for about 2-3 minutes.
Your potatoes need to be chopped and peeled, and your carrots chopped into inch sized chunks. Add them to the curry base and stir them through. Add most of your stock, leaving maybe 150 mls just in case you need more liquid.
Let the potatoes cook for about ten minutes then add the green beans, and mushrooms and coconut milk and stir it through and turn the heat down to simmer for about 15 minutes. If you are worried it may not have enough liquid, you can add the rest of the stock.
It's ready when your veg are tender, and the potatoes are cooked.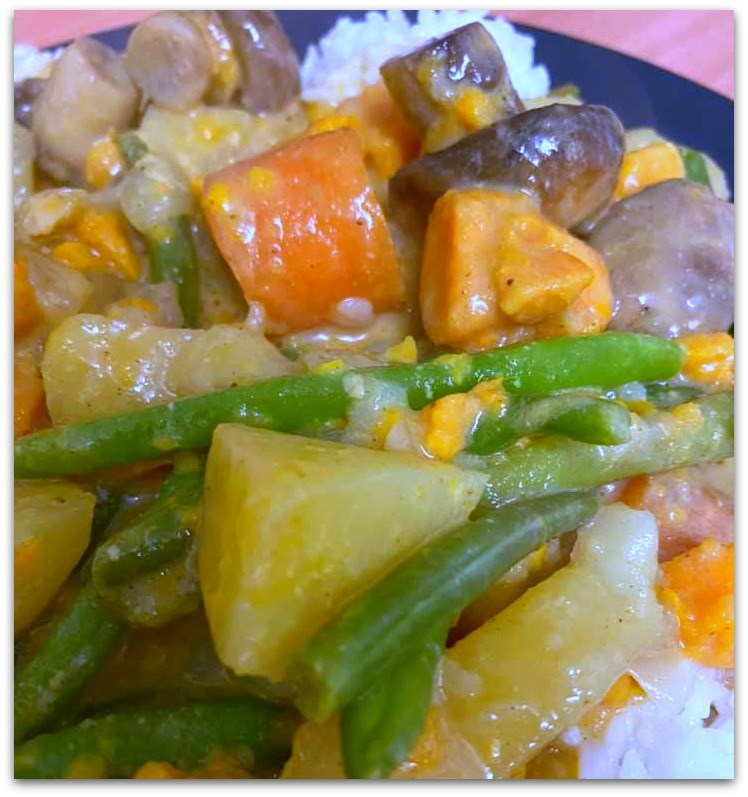 Serve with rice.
Wait for the demands for second servings….
There is a whole rang of different Spice Pots to choose from and you can be adventurous or stick to flavours you are familiar with, but really, you have no excuse not to make your own curry at home, if you use these. I am looking forward to coming up with more recipes and ways to feed my family and also get more veggies into them too.