*If you are celebrating Valentines Day at home this year, because you can't go out, or go away, then we have some perfect suggestions to help make it fun, romantic and interesting. We were kindly sent items to review for this post*
Being at home doesn't mean you can't enjoy Valentine's Day and it doesn't have to be boring. With a little bit of thought and some planning you can make it work and enjoy a day or an evening or even spin things out over more than one evening.
We have plans to make Valentines Day last over a couple of evenings, because we have a couplle options we plan to put into action.
A little adults only gin tasting
Once we have sent the children to bed, we plan to have some alone time, a lovely meal and enjoy some gin, in peace. We are both fans of new and interesting gins and this rather stunning pink gin is right up our street.
Aromatic and refreshing, Mermaid Pink Gin infuses the flavour of fresh Island strawberries with the smooth yet complex taste of our award-winning Mermaid Gin, a blend of lemon zest, grains of paradise and fragrant rock samphire. Perfectly balanced, subtle yet vibrant, less sweet than most pink gins with no added sugar.
Perfect for an evening in, and for a gin lover who likes something different. This is also delicate and fruity and a gentle gin so perfect for someone who doesn't drink gin as often or who wants to try something new.
Chocolate making and tasting
Spinning Valentines Day out further, we are also going to enjoy a chocolate truffle making evening from Red Letter Days. It's all organised and online so we can enjoy a chocolate-filled evening from our own home, and as we both love chocolate it's an ideal gift to each other and a fun way to spend time together. The kids will most definitely be in bed for this one and not invited to join in…
Treat an aspiring chocolatier to this interactive online workshop. Follow the steps as a talented expert demonstrates how to make delicious cream truffles. Learn the tips and tricks of the trade and master the art of chocolate making. This hands-on webinar is a chance to discover how to mix ganache perfectly, pipe chocolate and create a mouth-watering flavour for the finishing product. Understand essential dipping and decorating techniques and produce impressive chocolate truffles to a professional standard. Have fun and work as a team whilst getting into the spirit for some chocolate making from the kitchen at home. Make tempting truffles and indulge in these sugar sweet treats knowing they have been crafted by hand from fresh ingredients.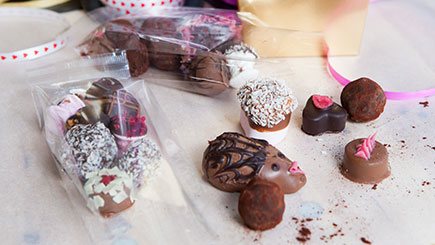 This is such a fun thing to do together, and something we have always wanted to do, but have never had the chance so being able to do it from the comfort of home is perfect and we can cater to food allergies too.
And when in doubt, I always have some pretty underwear and we can plan for an earlier night too. Enough said. This is a family blog after all… 😉
Valentines Day at home really doesn't have to be boring if you don't want it to be.
What have you got planned?