This Sausage and potato tray bake recipe is cheap, easy, filling, family-friendly and can be made vegetarian if you prefer.

It came about when I was looking in the fridge one evening wondering what to feed my family when I wasn't really into meal planning. I saw we had some sausages that needed using up, and we had potatoes, and some frozen peas and onion. Add a stock cube and some herbs to the mix and I felt like I had something that I could present as a one-tray dinner.
This serves 4 people. You can use more or fewer sausages and potatoes to double the recipe or make less. It also reheats well as leftovers.
You will need:

You can use any kind of sausages. We use The Black Farmer gluten-free sausages or you can use vegetarian sausages if you'd prefer.

Any kind of potato works too.

I use 16 sausages, cut up into four segments each.

Four large potatoes or 8 smaller cut up into the same size as the sausages pieces.
1 stock cube
2 onions cut into four pieces
A tablespoon of olive oil
Any dried herbs you prefer
How to:

Prep your oven by preheating it to 200 degrees.
You will also need a baking tray or baking dish.

Chop your potatoes and onion and toss in oil in your baking tray with the herbs.

Bake them for 25 minutes.

Add your chopped-up sausages and break up the stock cube and stir it through well.

Bake for another 25 minutes until the sausages are cooked and the potatoes have crisped up.
Then add your frozen peas and stir again. I use about a 1.5 cup amount of peas. You could use more or use other frozen veggies you prefer.
Stir again and bake for a further ten minutes.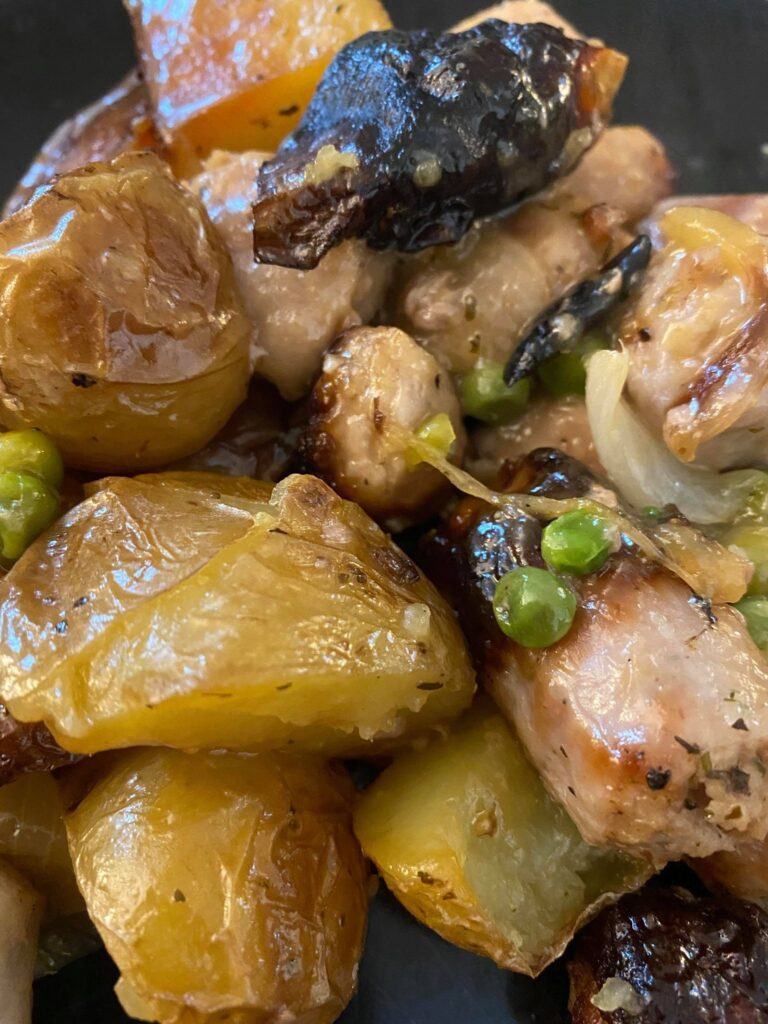 Serve with as much ketchup as you feel you can tolerate your kids using so they eat their veggies and congratulate yourself on an easy dinner that is minimal fuss but filling and delicious.