This egg fried rice is one of my go to meals when I want something easy and quick that I know everyone will eat. It's cheap, nutritious and you can add any frozen veggies or fresh veggies you like. Rice is a staple in our house and handy for being allergy friendly.
This feeds 4 people. We are big rice eaters in our house so it's a generous portion but I am usually feeding someone who's just come home from dance classes, swimming or school so we get hungry round here.
I use gluten-free soy sauce, and we prefer peas or sweetcorn for our veggies but frozen green beans, brocoli or carrots also work well.
You will need:
250g basmati or jasmine rice. Do not use long grain or American rice. You will also need to wash your rice. (find out why here) and why I always wash my rice.
4 eggs, lightly beaten in a cup or bowl
1 chilli, seeded and finely chopped. If you don't like any heat then skip this but even my kids tolerate this
4 spring onions washed and chopped
Soy sauce (I measure with my heart on this one)
A high temperature cooking oil. I use coconut or sesame for this, but use what you like.
Any frozen veggies you like. I use about 1.5 cups
Coriander to garnish.
You will also need a wok, heated and ready to cook your stir fry in.
You need to cook your rice first. I use a rice cooker, because I spent some of my childhood in Thailand and really, that is the only way to cook rice, but if you are going to cook it in a pan, then this is how I do it, for perfect and fluffy rice every time – put your rice in a pan, after you have rinsed it. Use 2/3 water to 1/3rd rice and let it come to the boil. When it's boiling, turn the heat right down and cover the pan with a lid. Allow it to simmer for 7 or so minutes. When all the water as been absorbed, turn the heat off and let the rice sit for a further 5 minutes. DO NOT STIR it at any point.
Put your rice aside.
Add your beaten egg to the wok and using a wooden spoon or better still, chopsticks, gently stir it. Allow it to start to cook, then stir again. Keep repeating this until the egg is cook and you can break it up.
You are now ready to add your spring onions and rice and stir through.
Add your frozen veggies and stir through for about 2-3 minutes.
Then add your soy sauce to taste, and if you like a lot of sauce go for it.
Serve onto plates and garnish with the chillis and coriander.
This can be reheated as long as it's piping hot when reheated so you can use any leftovers for another meal, but there rarely are any lefovers in my house when I make this.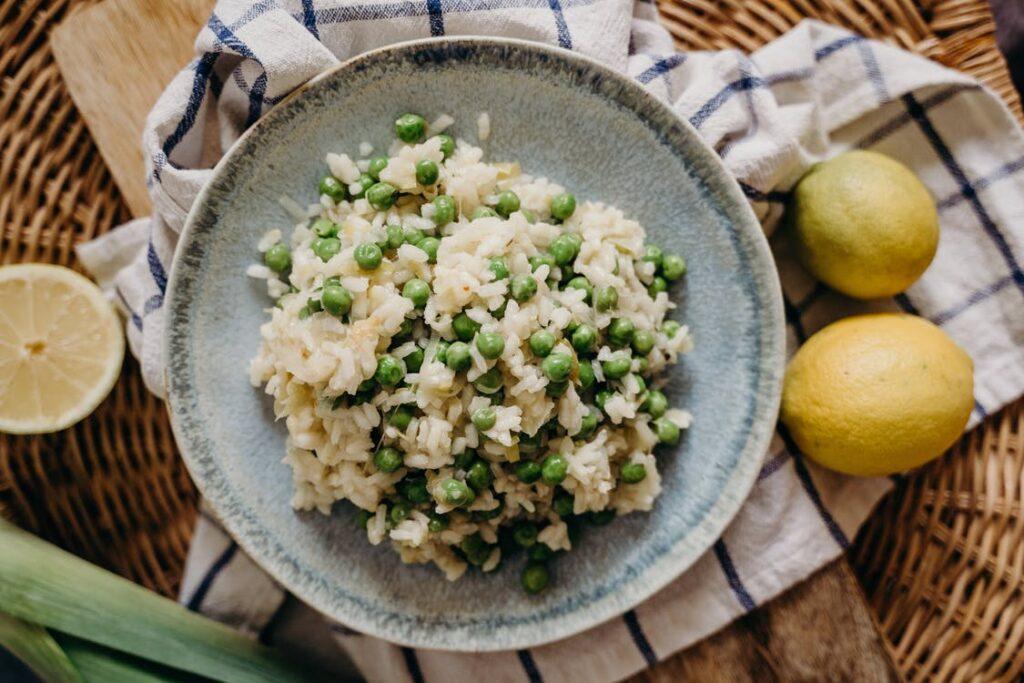 Another quick meal I pull out is omelette and rice, which is also a family favourite. Why not give that a try too..?