*This is a collaborative post with Dreambaby sharing how keeping kids organised in the car isn't as hard as you think*
Travelling with kids or being in the car with kids can be fun but also hard work. It can take planning and thinking ahead of time to make sure the kids are happy and the journeys you are on go smoothly. Even short journeys can be challenging if like me, you had children who didn't like being in car seats for too long.
What you need for a car journey to keep your kids happy and the drive pleasant will depend on their ages and travel tolerance. Tiny babies will sleep a lot and older teenagers will probably complain about your choice in music or ignore you for the whole journey.
When I was a child my parent used to drive use to Scotland and back for school or family holidays and the drives were long and sometimes boring. We didn't have iPads or phones back then (my children like to remind me I lived just after the dinosaurs died out, or something) and we kept ourselves entertained with reading or listening to music or playing simple games. We still had stuff with us, though and to help keep us amused.
Keeping everything your child needs to keep them busy doesn't have to be stressful or complicated. You might need to contain their drinks, snacks, games, books, wipes, electronic devices and other items where they can reach them and you can find them, but there is a solution.
The DreamBaby car back seat organiser is a super simple, but super handy system that can help you keep everything your little one needs in the car in one place so they can find it and also keep things organised.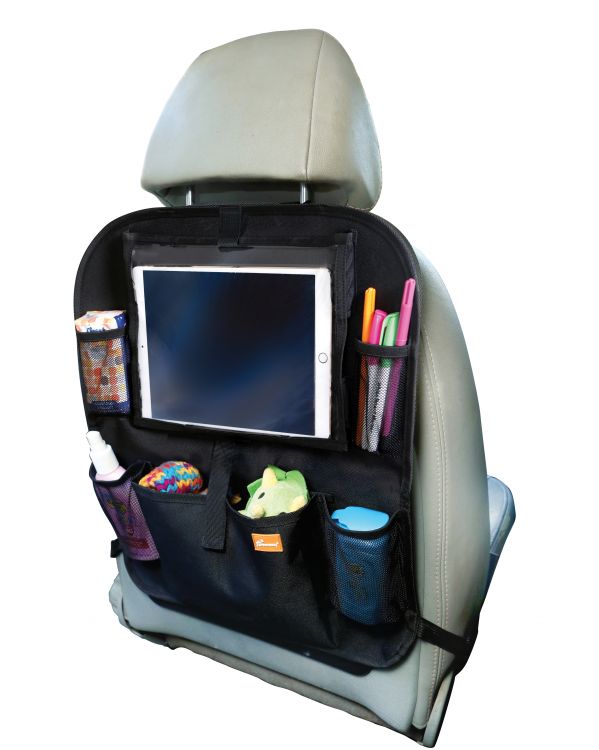 Includes 4 mesh pockets and roomy toy pouch
Extra-long easy-fit straps to suit most car headrests
Easy access to ports & controls
Clear touch PVC window, Phthalate Compliant
Suits tablet screen size up to 17 x 24cm / 6.7 x 9.4in
Organiser measures 52 x 44cm / 20.5 x 17.3in
It's safety tested, easy to install and works really well for all the stuff your kids and you need for a car journey. If they are little and you need to stash bottles, nappies and a few toys to hand for them, you can use it for that, and if your kids are older and like books, games, or electronic devices then it is super handy for containing those too.
You can store drinks, snacks, and things like tissues, and all sorts of bits and peices.
DreamBaby make brilliant items to help parents with practical issues and this item is not just something parents of babies need. We find it super handy in our car even now for trips and travel. It helps me to feel less stressed knowing the kids can access things they need and it's all tidy and in one place. Keeping kids organised in the car just got easier.
Unfortutely it can't make trips go faster or toilet breaks less but we can't have everything now, can we?
We love it so much we have one to giveaway to one lucky winner. All you need to do is comment here on this blog post sharing your best tip for car travel for kids and then click on the link below to enter the giveaway.
The winner will receive a Car Organiser of their own to use to make car journeys more tidy.
The giveaway ends on 7th November. Winner will be contacted via email. Please read the terms & conditions attached to the giveaway. Open to UK entrants only.
Good luck.
Win A DreamBaby Car Back Seat organiser