This article does contain affiliate links. Clicking through and purchasing earns me a small fee. These links will be marked with * so you know when you are clicking.
My kids love ice pops and slushies and these reusable ice pop packs from Nom Nom are brilliant for making them at home, and also saving on waste, because they can be washed and reused many times. They fit well in the freezer and you can basically fill them with anything you want. No sticks, lids or fuss required.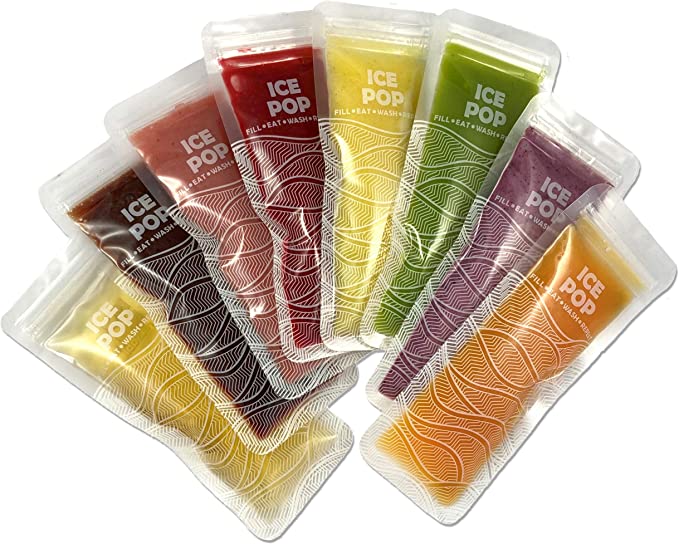 We use a mix of frozen fruit and apple juice for ours, but basically you can use whatever you like and what you and your kids prefer.
Our basic ice pop recipe that serves 6 is:
3 cups of frozen fruit – frozen works better because it freezes faster but you can use fresh fruit too, just allow for a longer freezing time.
Apple juice, water or whatever milk you like if you want to make them creamier in taste and texture.
A blender* or hand blender or smoothie maker.
How to:
Place your fruit and about half a cup of your liquid into your blender or smoothie maker or bowl. Leave to stand for about ten minutes. This allows the frozen fruit to soften just slightly. You don't need to do this if you are using fresh fruit.
Then blend, until you have reached a slushy like texture. You may need to add more liquid in small amounts to get the right consistency. You want to be able to pour the mix into the ice pop packets but not make it too runny.
Pour into your packs* or moulds, seal them. Wipe any drips or mess off them and then if you are using frozen fruit, freeze them for 3 hours. For fresh fruit you need to freeze them for about 6-8 hours.
Enjoy them straight out of the freezer.
Watch how to make our ice pops on Instagram or Tiktok
If you want something more grown up and refreshing, why not try my Pimm's Ice Lollies too, these are definitely not for kids…