This recipe for dairy-free creamy savoury pots is easy but creates a comforting meal that's brilliant for a light lunch or as a starter to impress someone for dinner. This is a variation of baked eggs but can also be made vegan too.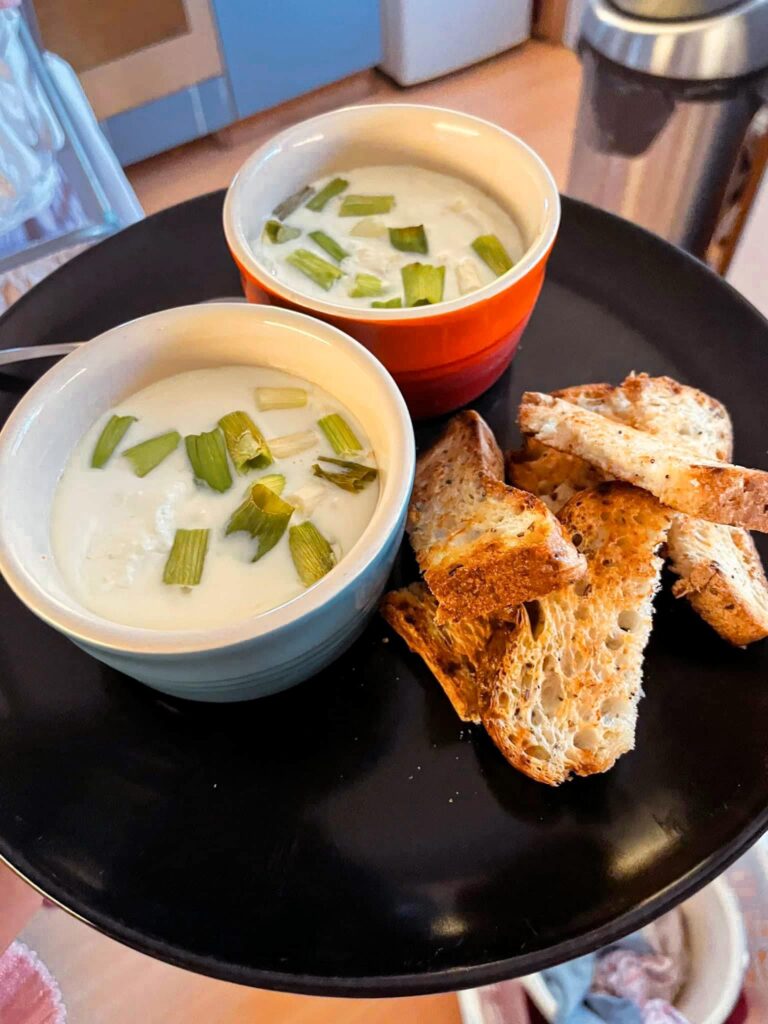 I recently discovered a couple of good quality dairy-free or plant based creams and this got me excited because it opened up some recipe ideas for me that I could convert to dairy-free for the members of my household that can't eat dairy.
I have been wanting to try a savoury creamy pot for ages and this one can be "veganised" if you use tofu instead of egg and I have added the quantities of both for this recipe so you can choose.
They are comforting, and delicious and perfect for dipping crusty bread in for a filling lunch or great as a starter.
This recipe serves 4 but you can double it to serve 8 or halve it if it is just for yourself. I must admit I am greedy and can happily eat two pots.
Preheat your oven to 180 (fan) 190 (non fan)
You will need:
500 ml of plant based cream. I am using Elmlea double cream, which is plant based.
4 eggs or 400g of tofu, I find the silken kind works well in this.
two spring onions, washed and chopped.
two cloves of garlic
Your choice of bread for toasting and dipping.
4 ramekins or heat proof pots
A bain marie (basically a large baking dish with about enough water to come to about 2/3 of the way up your ramekins or pots) I use just boiled water to make things cook evenly and faster)
How to:
Take one garlic clove and rub it all round the inside of each of your ramekins or pots.
Divide the cream evenly between the four pots then either add your tofu, divided evenly, or crack an egg into each one.
Take some of the spring onions and sprinkle on the top. Gently use a fork to sort of make them sink in a little but not too much.
Place into the bain marie and slide into the oven for approximately 15 minutes.
If you are using eggs, the eggs will cook in the cream and it will make the cream go firmer. But the eggs will still be soft in the middle. If you are using tofu it won't be as firm but will still be creamy and delicious.
Remove from the oven.
Take the remaining garlic clove and once you have toasted your bread, rub it all over the toast.
Serve with the toast and enjoy a very comforting and creamy dish.
These dairy-free creamy savoury egg pots definitely are a favourite for the husband and I for lunch at home when we are working and take about 30 mins to prep and bake.
*I do not salt individual portions of meals like this. I let people add their own salt and pepper to taste but if you prefer to you can add salt and pepper to the cream before you add the spring onions.

Would you try this? You could also try our vegan quiche recipe too.