*This is a partnership post with Balmonds, sharing what works for our family's skin*
I am VERY fussy about what I put on my skin and what we use as a family. When I find a brand I like, and that works for us, we tend to stick to it. I have very sensitive skin and psoriasis and my tween has struggled with eczema quite badly on and off for a long time, so finding skincare that works for her and I, is often tricky.
Balmonds is a brand of skincare that we have come to know and trust for skin care and I am a big fan of their products and we use a number of their products on our skins.

Purepotions was founded by a mother seeking a cream that would suit her daughter's severely dry and itchy skin and the Skin Salvation ointment is something I carry around in my bag all the time, because it frankly is magic for dry and sore skin and patches of eczema. They now have a range of skin and hair care items that are sold in many good retailers, and this is what they have to say about their ranges…
We aim to make our products as safe, effective and simple as possible so every ingredient we use serves a particular purpose; each has been chosen for its effectiveness rather than for cosmetic reasons. There is nothing hidden, nothing not listed.
Our position is that there is nothing mysterious or controversial about the effectiveness of our products; we are committed to absolute transparency and evidence-based research to back up our claims of efficacy.
We are committed to making our ingredient lists as clear and comprehensible as possible.
We only use an ingredient if it is essential to the effectiveness of the product.
We do not use synthetic fragrances, petrochemicals or colours in any of our products.
We use organic ingredients wherever possible.
Many of our ingredients are locally sourced.
All our products are suitable for use for anyone; adults, children and babies alike.
They can all be applied anywhere on the body; on face, scalp, hands and delicate areas of the body.
I am a big fan of using products that are as natural as possible whenever I can, and it's so helpful to know you can really trust them.
If like me, you have easily irritated skin that is prone to real dryness, eczema or other conditions, it's well worth investing in their products to help heal and soothe your skin.
Their Skin Salvation Cleansing Oil and Skin Salvation Intensive Facial Oil are perfect treats for skin, full of lovely ingredients, and make the ideal gift for someone too.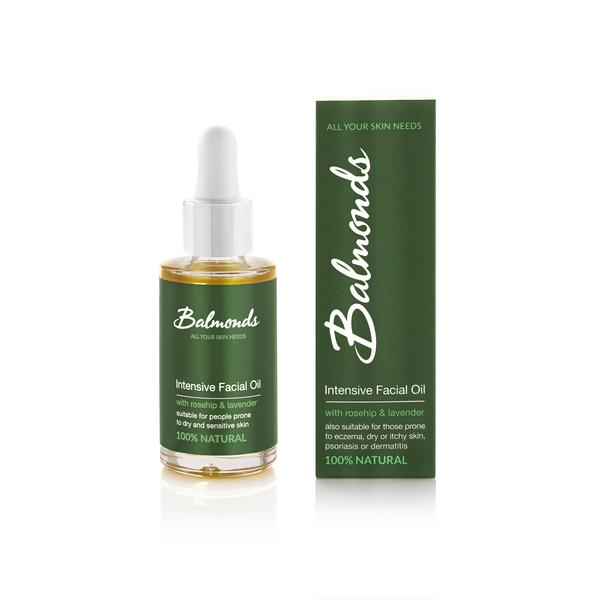 Balmonds Intensive Facial Oil is a gorgeous blend of beneficial oils specially chosen for their incredible rejuvenating properties, feeding tired, delicate or damaged skin with the essential vitamins and nutrients it needs to stay soft, healthy and hydrated.
This is a gentle conditioning oil made with only the highest quality plant-based ingredients. It was designed specifically to nourish and hydrate the delicate skin of the face, but can be applied anywhere on the body. It's an ideal overnight treatment and can be used to soften scars, blemishes and blotchiness, smoothing out uneven skin tone and caring for thirsty, dehydrated and ageing skin. Perfect for the sensitive skin of pregnant women and new mothers (it can even be used on stretch marks!), or to reduce the appearance of fine lines and wrinkles.
We use an unusually high proportion of pure rosehip oil in our formulation, as well as luxurious lavender, palmarosa and Roman Chamomile essential oils and the best quality, UK-sourced cold-pressed organic sunflower and organic calendula oils.
You can also use this lovely oil as an enriching addition to your usual day or night cream – just add a few drops to the pot and stir in. A little goes a very long way!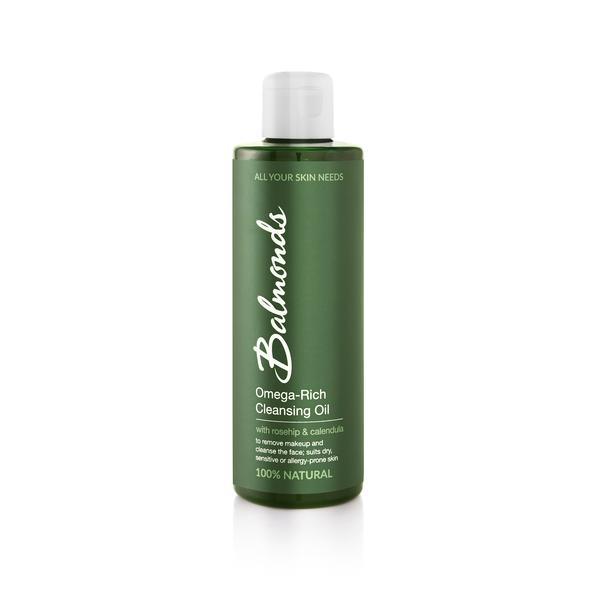 Balmonds Omega-Rich Cleansing Oil is a 100% natural facial cleanser made with a luxurious combination of rich and effective natural oils for daily use, to condition, cleanse and moisturise the face.
The oil can be used as a natural alternative to soap-based cleansers or synthetic make-up removers, nourishing the skin rather than stripping it of its natural oils.
When the cleansing oil is massaged into the skin, it binds to impurities or to oily make-up, allowing them to be gently wiped away without clogging pores and leaving the skin clean, soft and hydrated.
This amazingly pure and gentle oil also nourishes and protects skin that might need extra care, particularly ageing, fragile or damaged skin. This is because, unlike most cleansers, our Omega-Rich Cleansing Oil contains absolutely no perfumes, preservatives or synthetics. We don't even use essential oils in this blend, to avoid the possibility of irritating the especially sensitive skin on the face. This means this lovely versatile product can also be used as an all-purpose oil for for anyone with sensitive skin, such as new mums or babies. Use it as a massage oil, a facial oil or as a body oil after bathing.
Our Cleansing Oil is suitable for all skin types, even oily skin. The oils we've chosen all have a low comedogenic factor (which means they do not clog pores) and are excellent for cleansing oily skin by gently removing excess oil without adding to the problem.
Investing in your skin, is vital. Finding products that work gently and that are kind to skin is important. Why not have a look and see what Balmonds have that could help you with your skin issues?