I always tease the husband that he needs to look after his healthy head of hair. He's lucky that he has good hair, and even if he's going a tiny bit grey, he still manages to look younger, than me, and I am convinced it's because of his hair.
Hair is a funny thing, you can tell a lot about a person by their hair, I think, and what we put into our bodies is often reflected in our hair. Keeping hair healthy and strong is helped by eating a good diet, and making sure you get the right nutrients you need. Sometimes a bit of help is needed and a lot of people take vitamin supplement to add to their diets.
It Really Works Vitamins have come up with a specially formulated set of vitamins to help with healthy and strong hair growth.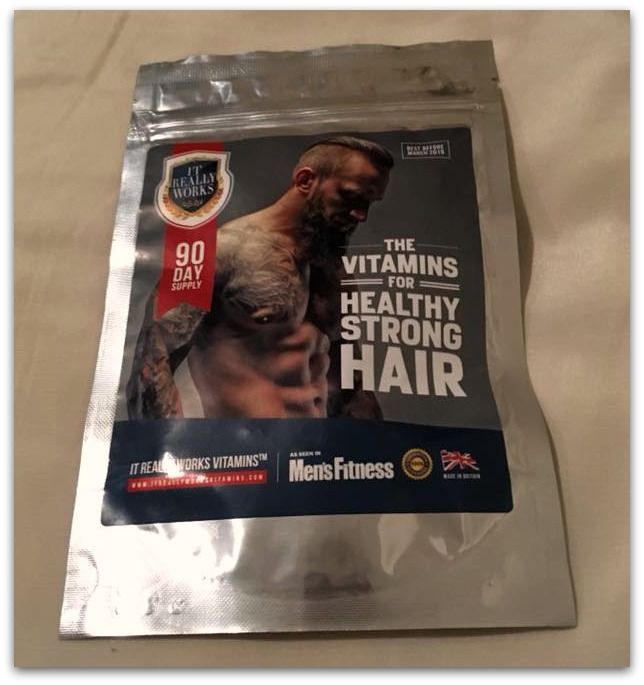 They say:
An extra-strength formulation of vitamins and minerals specifically targeting the health of your hair.
Take two tablets per day for:
– Healthier hair.
– Our reviewers noticed less hair falling out when it was brushed and washed.
– Nourished hair and healthier skin.
It Really Works Vitamins are packed with 22 essential nutrients including Biotin, Copper, Folic Acid, Iodine, Rosehip, Selenium, Manganese and Zinc which are clinically proven to enhance the health and strength of your hair.
We're so confident you'll notice a clear improvement in the health of your hair, skin and nails that we offer a full 90 Day Money Back Guarantee!
I say, anything that keeps my other half's head of hair healthy… 😉
Added to a daily routine, to help your hair to look strong and healthy, and they are easy to take and their pack is easy to seal and store. They are also gluten free and suitable for vegans and vegetarians.
It Really Works Vitamins have been featured in Men's Health, Men's Fitness and will be in next month's Esquire Magazine!
We have a 90 day supply of It Really Works Vitamins Healthy Strong Hair vitamins to giveaway to one reader of our blog. Simply tell us in the comments a myth or old wives tale you have heard about making hair stronger and healthier, or a tip or trick that you find works for you, then head to the link to complete your entry.
Terms & Conditions
One winner will recieve 90 days supply of vitamins
Winner will be chosen via Rafflecopter and will be contacted to arrange receipt of prize
No cash prize alternative
Over 18 entrants only
Open to UK and European entrants
Spam entries will be deleted. All entry requirements must be completed to qualify for entry.
Ends 20th March 2018
*this is a collaborative post*