*we were kindly sent a Poorly Boo first aid kit to review. All opinions are our own*
I love a good First Aid Kit and as a mum and also as a former nurse, I am very aware of the need to have a decent first aid kit to hand, for both at home, out and about, in the car, and also on holiday.  Poorly Boo has one that works and covers you for all these things.
You need something that contains all the essentials you may need in a first aid emergency, in a portable, easy to access the container. There are a lot out there on the market, so it can be hard to choose what works for you. Every family should have a complete and up to date first aid kit and or medical box at home, and also for traveling. You hope you will not need to use them, but life and kids mean it's likely that you will need some sort of first aid kit at some point.
Poorly Boo has come up with a kit that we think is perfect for families, for at home, travel, and general use.

Created by a mum for mum's and families Poorly Boo has a range of kits for the home and first aid. Their boxes for parents at home stocked with all the things a parent might need when their little one is unwell and popping to the chemist (usually it's in the middle of the night when you realize you need something you haven't go) are super handy and I wish we had had something like that when my kids were little. They make a great gift for someone having a baby or for your own family to make sure you have everything to hand when you need it most.
Their First Aid kit is excellent and fully stocked with what you might need in an emergency, or when you need to carry out simple first aid.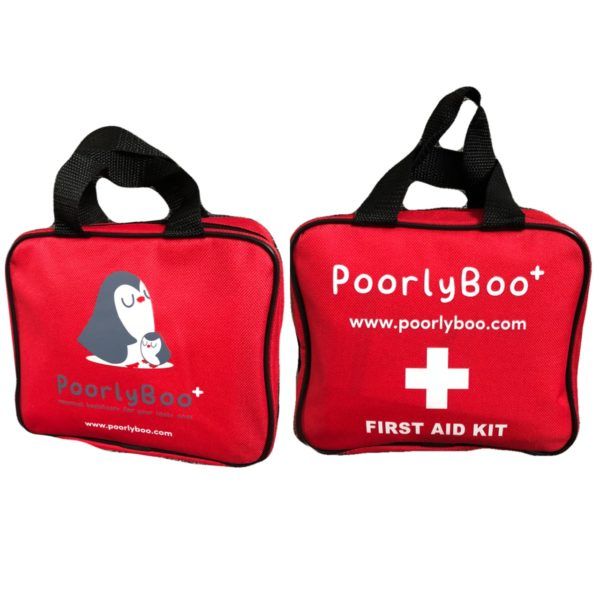 The kit contains all the things you would expect, including disposable gloves, a face mask for mouth to mouth, an ice pack that can be activated and used (very handy!) scissors, tweezers (I find not all kits contain these, I was very pleased to find them) wipes, plasters, and also a very useful and clear chart with instructions on what to do in various first aid situations.
It's a compact and handy kit, with what you need to be contained neatly in an easy to use the bag. It would fit in a suitcase for travel (if you carry it in your hand luggage you would, of course, need to take the scissors and tweezers out, but they could be left in if your bag is going into the plane hold) and for out and about in a nappy bag, car, or under your pushchair. The sections keep everything in place and clean and dry, and you can find things you need easily.
We would highly recommend these kits for your basic first aid needs, they really are well thought out and useful. I would happily take this out and about, with me, or on holiday, or in our car for use when needed. It is also value for money, budget-wise, if you are considering buying a first aid kit, when you compare the cost of the contents to buying them individually and the kit comes in tough, water-resistant bag.
I also think as a parent you need to have a good First Aid app on your phone, and this one from the Red Cross is one I would recommend.