There are few meals that I pull out when I really can't be bothered to cook, or want to do no-fuss cooking but know that the kids will eat without complaint. Potato bake with goats cheese is one of those. It sounds posh but it's really not. This version can be made with meat-free bacon and you can use vegan cream cheese if you prefer but because the husband and boy are not allergic to goats milk and the tween can tolerate it (we are avoiding cows milk because she is in a bad eczema flare stage right now) we use creamed goats cheese and it works. You could also use normal cream cheese if you prefer. Goats cream cheese is not "goaty" unlike some other goats cheese, and works well and we use it for a lot of cooking.
Potato bake is one of those things I took a while to learn to make but it's cheap and filling and can be dressed up if you want to. You do need to grate potatoes but you can either do it by hand, with a grater or if you have kids who like to jobs for you in the kitchen, you can get them to help. Or you can use a grater blade in your blender machine if you have one.
This takes about an hour to make but it always gets eaten so I find it worth the work and time.
For the potato bake you will need:
6 large floury potatoes. Wash the skin.
1 small onion chopped finely
2 cloves of garlic chopped finely
2 tablespoons of good olive oil
Salt and pepper to taste (if you like things salty then you can add, I find half a tsp of salt and half a tsp of pepper works fine for this)
A large baking dish, greased with a little butter or oil.
This serves 4 people.
To make:
Grate the potatoes using the large grater hold section of your blender or hand grater. Then take the potato and place it inside a tea towel and wrap it up tightly, so you can squeeze the liquid out. Potatoes do contain a lot of water and this dish doesn't work well if you don't do this. The potato will feel much drier when you have done this.
Take the onion, garlic and oil and the dried potato place in a bowl and mix it well together, then add your salt and pepper.
Spread the mix in your baking dish and put into a preheated 190-degree oven for 45 minutes. The potato will crisp up and the garlic and onion will cook nicely.
Meanwhile, make the goats' cheese (or your cream cheese sauce of choice) sauce.
I use no meat bacon pieces for myself and bacon lardons for my meat-eating family members.
You need:
450g of soft goats cream cheese. Most supermarkets have this now (or 450 of the cream cheese of your choice)
150 of bacon lardons
This bit is easy.
In a frying pan, over a medium heat, gently fry the bacon lardons until they are crisp. Then add all of the cream cheese and slowly stir it into the bacon until it is smooth and sauce-like. This doesn't take long so you only need to do this about ten minutes before the potato bake is cooked.
Take the potato bake out of the oven, it should be golden and crispy.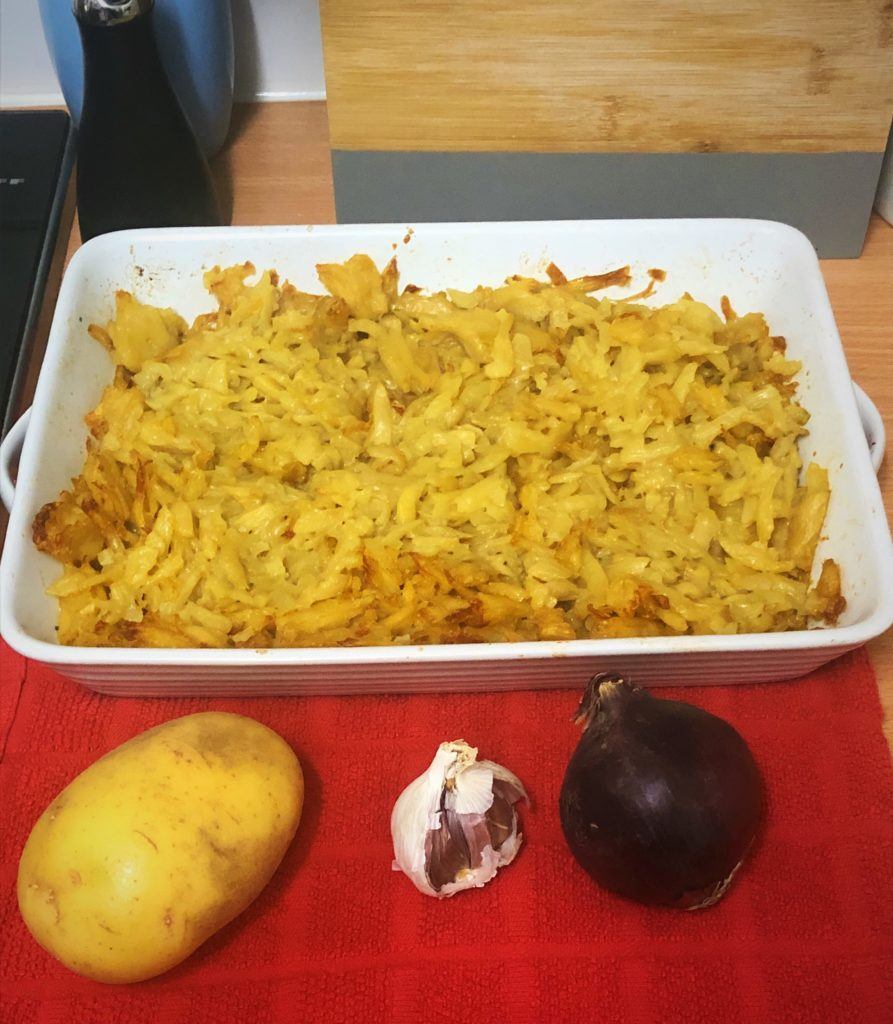 Serve on warmed plates and pour the goats cheese over the potatoes.

I make a non-meat version using meat-free bacon bits with the goats' cheese sauce on the side.
You can also try our goats cheese potato gratin, too…