*This is a collaborative post with Dietbon diet food delivery. I trialed their plan for a week*
Dietbon asked me if I would like to try a week of their diet food delivery plan I was very keen. A system where the food is prepared and ready to go, all balanced out with no calorie counting and not much measuring or faffing about? Yes, please.
Just what this mum needs to kick start her into some sensible weight loss. I didn't really make any resolutions this year, or not specific ones. I did, however, want to feel a bit better in myself and with myself and I have felt that I need to lose a little weight that I have gained having lost 52lb to be able to have knee surgery safely in 2019.
The problem for me is I am busy, often tired and I find being organised and motivated when looking after my own needs goes right to the bottom of the pile as a busy working wife and homeschooling mum.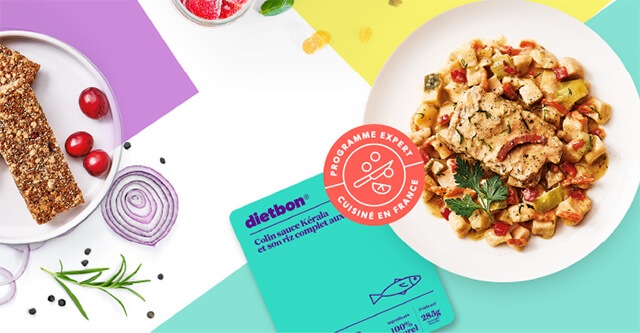 They are a French company, and they work on the basis that you can lose weight but eat good food and we know the French love their food and enjoy eating so you can't really go wrong can you?

The Dietbon plan consists of gourmet, calorie-controlled diet food delivered with 4 meals a day, for 6 days a week. This allows our
customers to lose weight without feeling hungry or frustrated.
They offer a diet home delivery service where you are sent meals based on a personalized plan created by a dietician. They have 80 delicious meals that you can choose from. You stick to the plan for 6 days then have a day to plan your own eating. It has been created by a medical team and is carefully structured to help you lose weight but also still enjoy food.
I am always a little wary of diet plans and meal replacement schemes when they are not backed up by qualified support and science, but Diet Bon have you talk through a qualified dietician who is very helpful and knowledgeable before you start and you get a whole pack of information and there is support online as well so it feels like a safe, sensible and reliable plan.
You create your account and choose the meals you want, and there is a good range to suit you if you are vegetarian or have food restrictions so it's not hard to find meals you can enjoy.
You pick your meals, breakfast, lunch, dinner, and snacks and you need a little basic shopping to go alongside that but it's not expensive or complicated.
Dietbon delivers to you and they don't need to be kept in the fridge so you don't have to worry about storing them which is helpful. They are all pre-packed so convenient for taking to work, which I found really helpful. (also the containers are brilliant for use once you have finished with them for crafts and kids painting, as someone who is conscious of my plastic impact this made me very happy)
The meals are made with 100% natural ingredients and are created to be tasty but also healthy.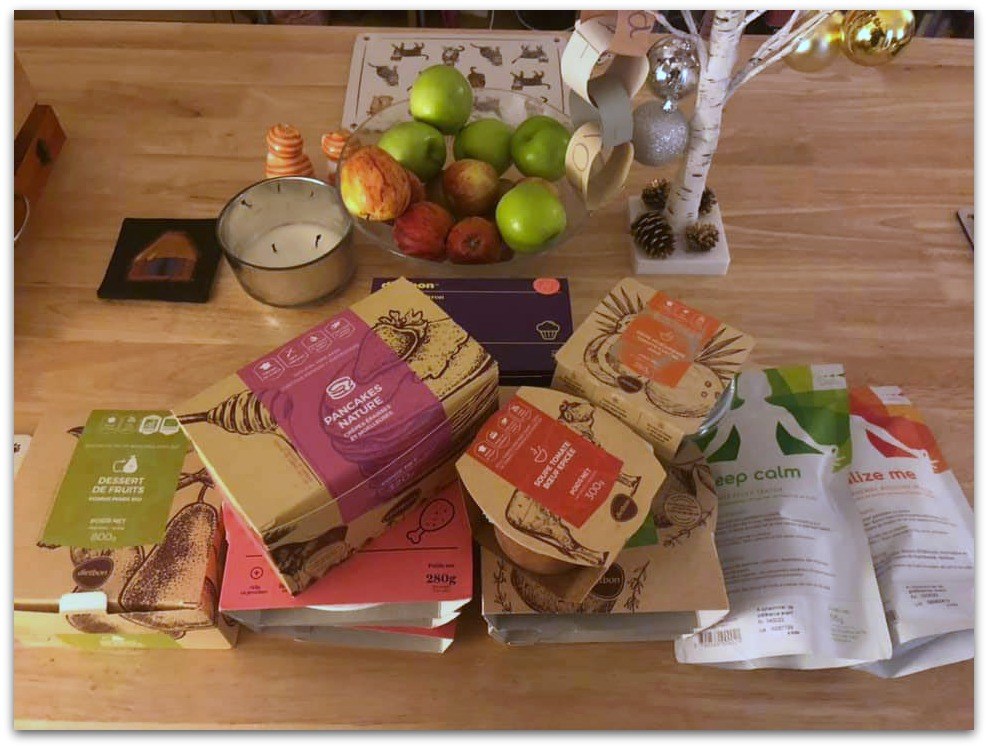 You do need to plan your week of meals and stick to the diet plan, but if you want to lose weight then that's not hard especially as they are pretty much doing all the work for you. When you speak to their dietician she talks you through your daily and weekly routine, what times you usually eat, and gives you advice on planning your meals. You also get advice on things like not drinking fizzy sweet drinks, making sure you drink lots of water and also about exercise and enjoying your meal plan so it's not a hard slog.
For me, it was different because you plan to eat three meals and snacks, which is more "mealtimes" than I am used to but it was easy to get into that habit, and it works because you aren't doing long stretches without eating.
The extra bits you need to buy are the fruit you need to add to your daily plan, some yoghurt, lots of non-starchy veg and some ingredients for a salad dressing that you use.
One part of the Dietbon plan I particularly enjoyed was eating a big bowl of vegetables before my main meal in the evening. This helps to fill you up and also gets you used to eating more fresh veg. I actually looked forward to that part. You use their dressing recipe which gives it flavour too.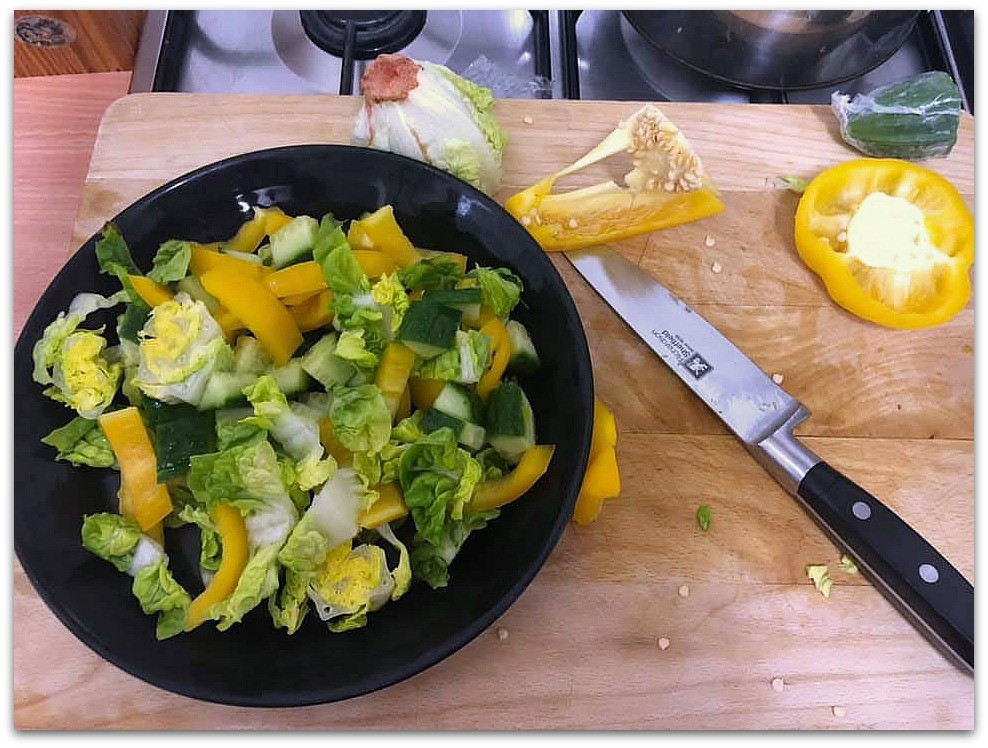 The meals seem small, but actually work well and are delicious and more filling than I thought they would be. I think them being French and tasty helps a lot and they are very balanced and helped me to remember that portion control is something that I need to manage.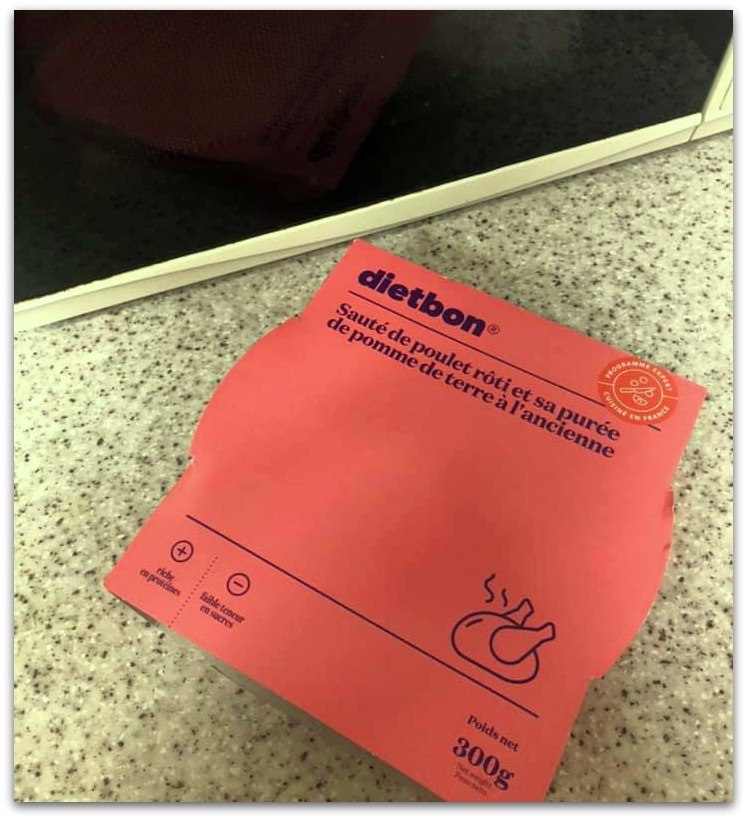 The Dietbon meals are easy to cook, either in a microwave or a bain-marie so for me were quick and simple to manage. The meals are actually delicious and varied and not boring. I opted for soup on a couple of days for convenience as well as a range of other meals.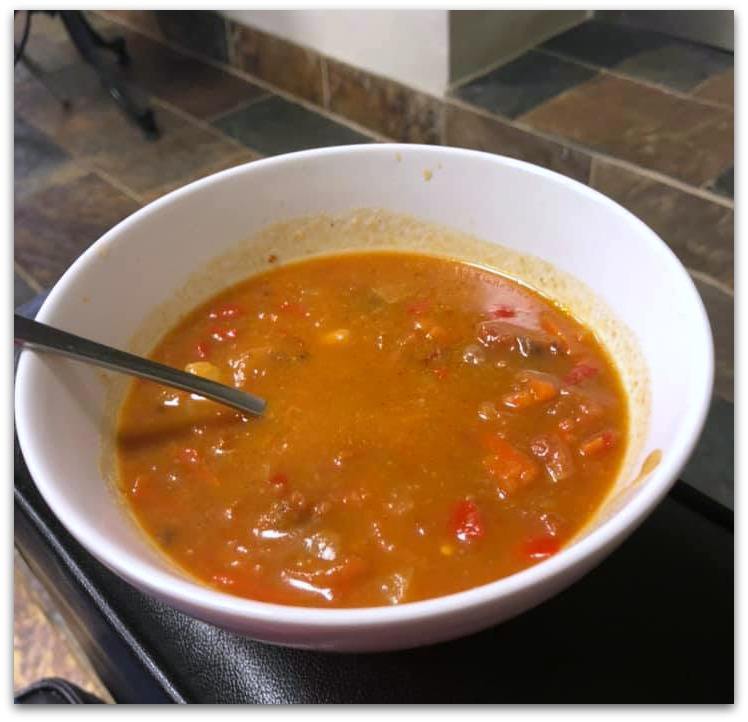 You eat the meal plan for 6 days, then you have your free day. But unlike other diets you are not saving points or sins or calories, you are expected to be sensible and plan and still manage portions, not go made and eat all the foods you crave but you can use that day for planning a meal out, or for having a glass of wine (you can't drink alcohol the other six days) or in my case a very much enjoyed small gin and tonic. The dietician advises you on this too so you don't go made and ruin your week of good work.
You do need to drink your water and make sure you eat your snacks and fill up on your veg plate, these all help you not feel hungry. You can use some of your allocated dairy portions to have milk in your coffee, which is what I did (because I don't do black coffee at all) and no fizzy drinks are allowed.
The first day I did feel a little like "oh here I go, I am not going to be able to manage" but 48 hours in I was in full swing and in the zone and fully on board with my plan and enjoying the control but also not having to worry about meal planning or what I was eating next.
I started the week hoping to loose 2lb on the plan, and at the end of the week was shocked to find I had lost 5lb. That's a lot, but gave me the kick start I needed.
Price-wise it's very sensible and good value for money. It works out as about 1/3rd of our weekly food budget cost-wise, but because it's all there for you meal wise, it works out for us well and if you want the element of control and everything is done for you but be able to eat well and lose weight then this is definitely a plan worth trying.
I will be doing another stint on the plan because I found it very helpful. I am looking forward to choosing my next lot of French meals and losing some more weight.
If you would also like to try Dietbon, you can use our link. When you order you will receive 28 days worth of detox tea, too.