Toad in the hole is an English dish, consisting of Yorkshire pudding batter, with sausages nestled inside, served with gravy and veg, it's a warm, comforting, and delicious meal. We use a gluten free, cows milk free recipe for our toad in the hole, based on my very easy Yorkshire pudding recipe.
The trick to getting Yorkshire puddings to rise and be perfect, crispy outside and fluffy in the middle, I have found is to make sure your batter is cold, and the pans and oil you are pouring into are very hot. Gluten free flour tends to be a little "stogier" than normal flour so this way, I think, helps to make the pudding work the way it would with normal flour.
For this recipe for gluten and cows milk free toad in the hole you need
Yorkshire pudding batter, chilled in the fridge if you can,
8-10 large sausages of your choice, (we like the Black Farmer's gluten free range, or most supermarkets do a gluten free version now)
a Pyrex or other dish, and the oven heated to 220 degrees.
(For this recipe, I made mini toad in the holes, I was feeding four hungry children, at the end of a playdate!)
My recipe serves 4 adults or two hungry children and two adults. You can double the quantities if you want to make a bigger dish, and cook it for slightly longer, about half the time again, to make sure it cooks through.
Place your sausages in the dish you want to use and cook them in the oven, for 15 minutes, until they are starting to go brown, and the fat is coming out of them (remember to pierce them, or they will explode, been there, done that, messy and disastrous) take the dish out, of the oven and then carefully pour the batter you have made, over the sausages. Put the dish back in the oven at the same high heat for 15 minutes, until the pudding has started to rise, then bring it down to 190 degrees for another 25-30 minutes (you will need to keep an eye on it, and adjust for your particular oven)
Serve with peas, other green veg, and good gravy, and you can even add a dollop of mashed potatoes for extra carbohydrate comfort if you like.
You can adapt this recipe using cows milk or soya milk and when I am making this for adults and not just the kids, I add some gently browned red onions, into the sausages, as I add the batter.
When I am making this recipe for the children, I use muffin tins, and mini sausages. This make perfect mini toad in the holes for kids, and actually for adults too, and they are great cold, for lunch boxes, as well.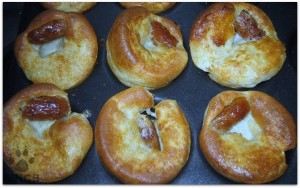 Because I am a bad blogger I didn't take a photo of the finished, ready to eat version of this. The image above is the same recipe but using mini sausages in muffin pans, it works well for kids to use this version.
You can also use vegetarian sausages for this if you prefer to be meat free.