This blog post on basic kitten care items you need for your new kitten contains affiliate links to our Amazon shop. If you click on the link and make a purchase we earn a small amount of income. Those links will be clearly marked with * for your information.
If you read our blog, you will know that Tabitha came into our lives this year, after the loss of our beloved Layla.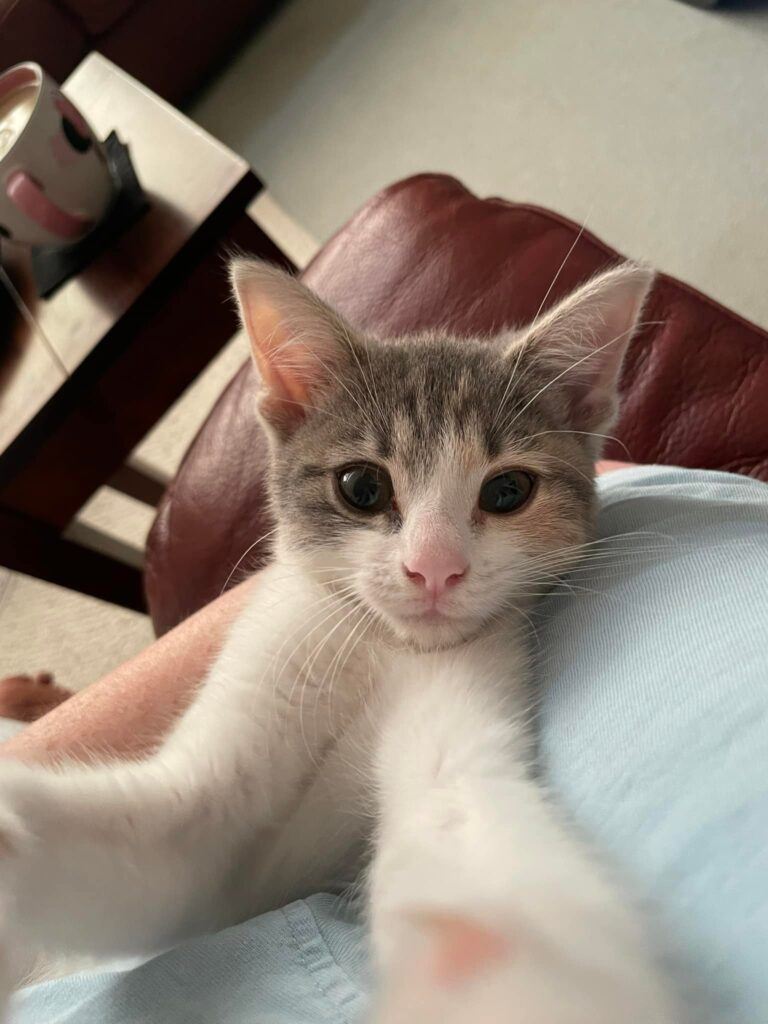 It's been a while since we had a kitten in the house and there are things we did when Jasper came home to us that we didn't do this time round and a few essential items we used that we'd recommend.
Tabitha is a fairly easy going kitten and we wanted to make sure she had a safe space at night to sleep and if we were out, when she was very tiny. This is twofold. To stop her getting into things she shouldn't and getting hurt and also to give her a space she felt safe and she could go to. We also wanted to get her into a good routine at night and for her to sleep rather.
A safe space:
When Jasper was a kitten, we didn't really have a space to contain him and this time round I did some research and found that there are basically 'tents for kittens'* (or puppies) that are big enough for them to move around in but have a netted top you can zip up so they are inside. This is super handy, for keeping a kitten in one place and also protecting them.
We have two of these, one upstairs and one downstairs. It's big enough to fit their litter tray, a place to sleep and their food bowls and we have used it at night. She has her last meal and we settle her in there and zip up the top and she sleeps safely. She will climb in there when she wants to nap, or have some peace and quiet. It's also handy because her litter tray is in there so it contains the litter, which is helpful.
You can see our little video of us cleaning it out and tidying it here. I clean it out every other day (she's a messy little thing) and it's waterproof and can be wiped down easily.
Grooming and cleaning:
Kittens are usually taught by their mothers and know how to clean themselves but there is always room for a bit of a poop oops and Tabitha was a bit of a messy eater when we first got her and would need her nose and face given an extra bit of attention to keep clean and she also still occasionally gets a wee bit of poop on her tail that she needs help cleaning off. Whilst you can get disposable wipes for pets or even use basic babywipes, I prefer to not use them because of their environmental impact. So we use either very mild shampoo in warm water and a washable cloth or this solution which is also works on odours.
Tabitha is short haired so doesn't need grooming really, but if you have a long haired kitten it's good to get them used to being groomed as soon as possible so they are tolerant of grooming and care and this comb* we highly recommend for getting tangles and clumps out of fur and keeping it smooth. We also trim her claws, because she isn't an outside cat yet, and they are razor sharp. You need to make sure they have a safety hinge so you don't take too much claw off or hurt your kitten. These claw trimmers * are what we currently use and prefer.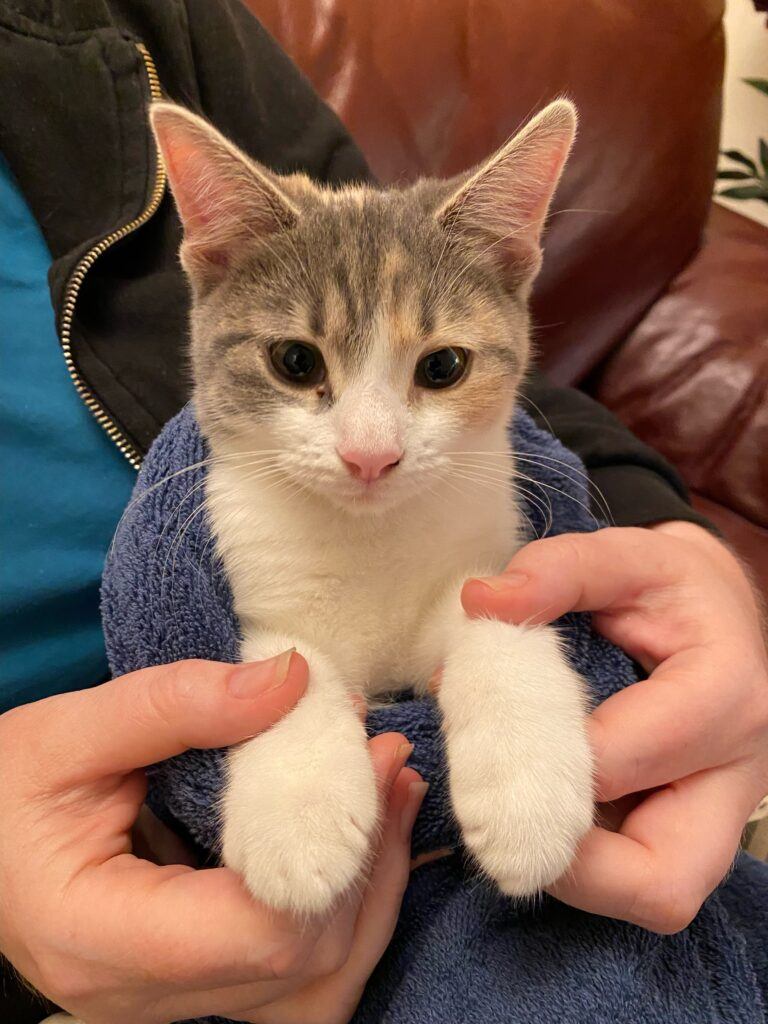 Poop:
Kittens poop, Tabitha usually twice a day. We have a litter tray upstairs she can access and a tray in her safe area too. I personally think for kittens you don't need anything expensive or fancy and if you clean it daily and use good kitty litter, you shouldn't have to deal with smells. We use this recycled paper litter and I change it every other day and remove poo as soon as I find it. Kittens can be known to eat their litter and our vet recommended paper cat litter because if she does eat it, it won't block her intestines like crystal or mineral litter can. If you are cleaning out a cat litter area or around their litter, then use a spray or cleaner that isn't harmful to them and that isn't horribly strong smelling. We like Aroma Care for cleaning products and they work well on cat wee smells and other not so cute by products of kitten life.
Feeding and eating:
Your vet will be able to advise you on the best food for your kitten and you may also need to see what your kitten likes (Tabitha is a bit fussy we have discovered and also has a bit of a sensitive tummy) but you don't need fancy bowls or plates for a kitten. You need shallow dishes that they can access easily and that wash easily too. These are dishwasher proof and what we use. We also have a silicone mat underneath where she eats to keep the area clean and make it easy to wipe.
She loves our Pet Safe Water fountain and often will be found either drinking from it or paddling with her paws in it and it's a super easy way to make sure your pets have fresh water all the time. We also have a bowl of water in her safe space and upstairs she can access.
Playtime:
Kittens love to play and need stimulation and entertainment as well as being made to feel safe, secure and loved. You don't need lots of expensive toys, a rolled up ball of paper can keep a kitten amused for hours, but you can pick up little toys if you want to. Make sure they are well made, from a reputable shop or store and don't have bits that can fall of and harm your kitten or could be eaten. If a toy breaks, remove it. Tabitha loves boxes and playing hide and seek, and any parcels that come must be inspected and their boxes become her play area.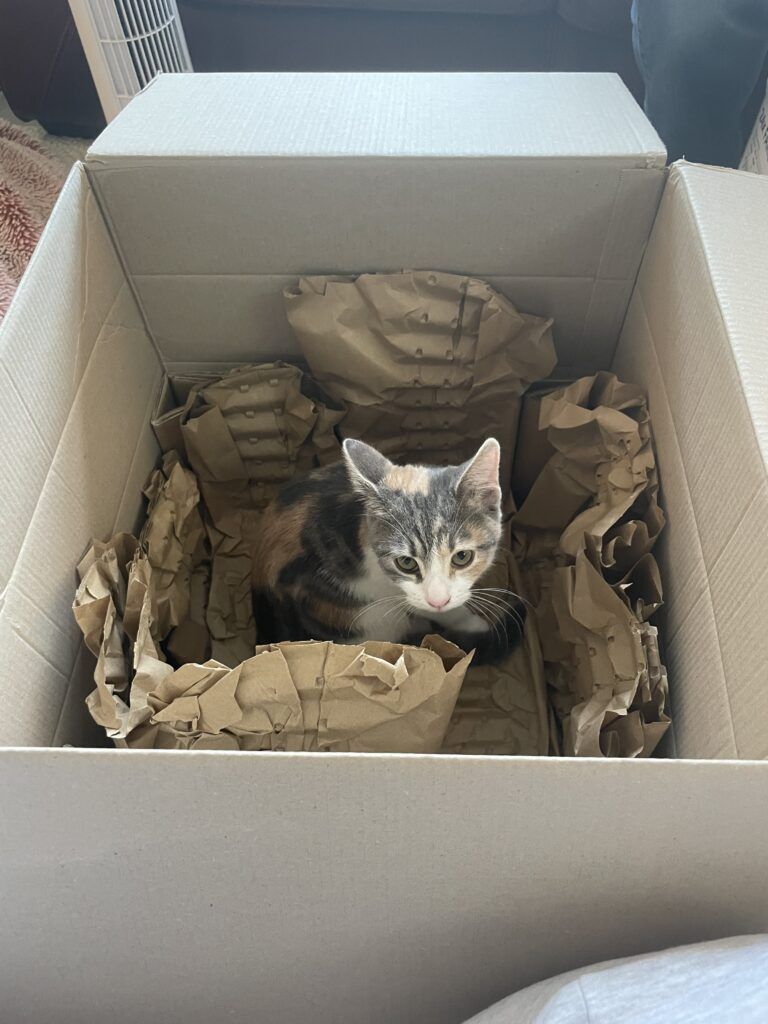 But I would recommend a cat tree, of some kind depending on the size of your home. Tabitha loves hers and sleeps on it, or sits and practices being a judgy cat watching us as we do life, and it's handy for keeping her toys in too. You don't need a very fancy one, unless you have space and can afford it but you do need to make sure it's well made and stable.
I would also suggest a cat scratch post, particularly if your kitten is going to be an inside kitten or you are keeping them inside until they are neutered. This protects your furniture from being clawed and gives them a place to sharpen their claws.
These are the basics we have, for our kitten. She is thriving, happy, healthy and keeping us on our toes.
I can't end this post without my usual disclaimers though. Always talk to your vet about pet care advice and please adopt don't shop. Tabitha came from Cats Protection to us and she and her siblings went to loving homes via them.
Have you got any basic kitten care items you would recommend or found were not helpful at all? We would love to hear from you…
You can also see our full shopping list for cats here too.
You might also like these posts:
Make your own kitty litter freshener